 Defining Insurance Producer Management: What It Is and Why It Matters
Producer management encompasses the administrative process co-owned by licensing, compliance, operations, and legal teams across carriers and agencies, but what does that even mean? And where does the producer lifecycle fit in the grand scheme of insurance?
At its broadest, producer management is the administrative process of gathering producer data such as licensing and appointments, validating it, and passing it on to the right people at the state, agency, or carrier levels. But different entities have different roles in that process at a more granular level.
For instance, carriers may be most concerned with making, renewing, and terminating appointments. Agencies likely are more interested in license management. And MGAs and MGUs could need a robust process for either of those, or both, depending on their role and position in their own particular distribution chain.
Perhaps the easiest way to understand what producer management entails is to step through each stage of a producer's "lifecycle." Of course, this lifecycle plays out in different ways depending on your slice of the industry: A producer may spend their whole career writing business for the same carrier and agency. Or, for Medicare-adjacent businesses, this may be a cycle that repeats seasonally.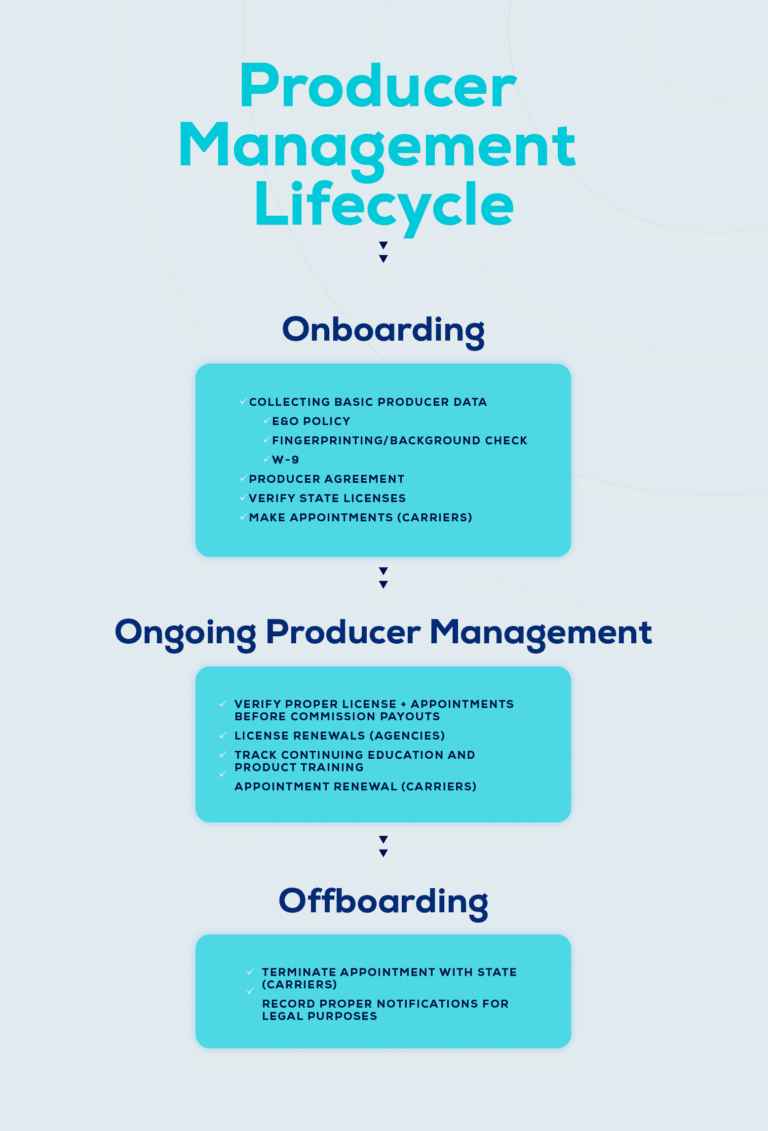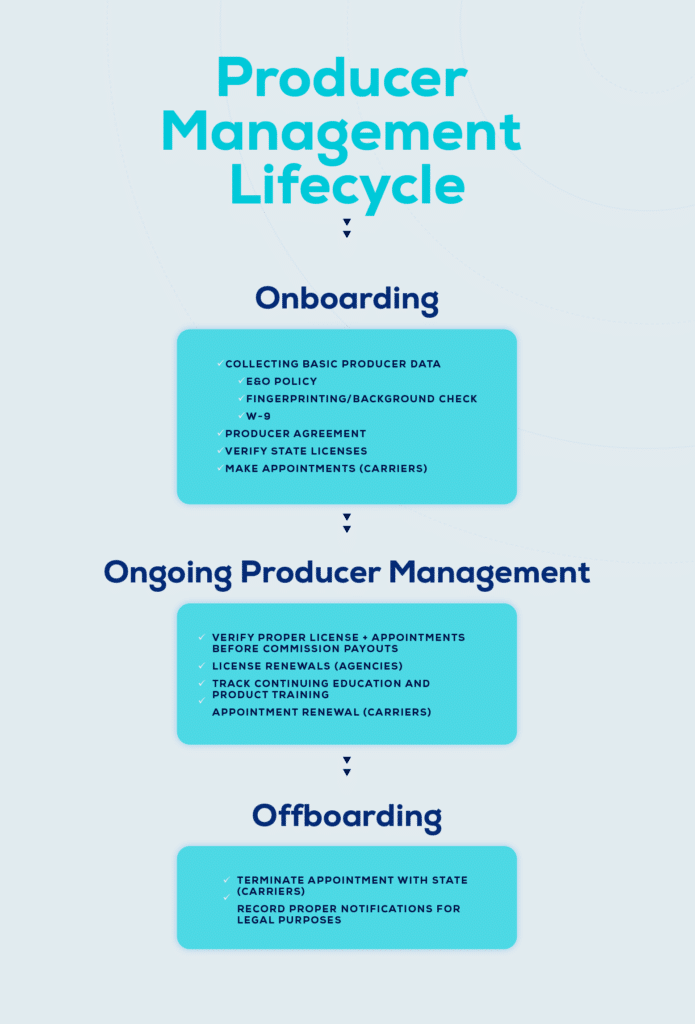 Recruiting
Recruiting producers is mostly within the purview of agencies. From the beginning, finding and courting producers is often the first brush with producer management, because it may involve verifying a producer's license, resident state, or line of authority, or gauging that producer's interest in acquiring the proper license for your business.
Determining a producer's fit both in terms of technical licensing and in terms of your business's core values is a key piece of recruiting: You don't want to waste time chasing the wrong producers.
Onboarding
Every step of the onboarding process is an opportunity to wow your recruit with the agility and service of your business. Or, alternatively, it's a potential dropoff where your previously warmed-up producer gets cold feet.
Collect basic producer data. This can take some doing to get together, but essentially state regulators hold agencies and carriers accountable for ensuring no shysters are selling insurance to a vulnerable public. So, typical data gathered at this stage of producer management includes:

Proof the producer retains an E&O policy
Fingerprinting/background check information
W-9

Get the producer agreement signed. Producers and the entities they work with and represent must have a working contract, so sending drafts back and forth and storing the final draft are essential.
Verify state licenses. Your producer has to have an active license in each line of business and state they will sell business in – both their state and the state of their client.
Make appointments. In most states, carriers are responsible for reporting active producers to the state, although some states only require this to be an internal documentation. Still others require carriers to appoint agencies but not individual producers. You're responsible for following the law of whatever states you're operating in.
Ongoing Producer Management
Once a producer is onboarded, they're engaged in your other internal processes. Paying commissions, supporting the sales cycle, record-keeping on their downstream client base, and providing marketing know-how and tools are all key facets of your producer relationship, and it's easy to let those reign as your top priorities.
But state laws across the country are very clear that up and down the insurance distribution chain, each entity should be sure each product sold, each commission paid, is being sold by and paid to valid, licensed, appropriately appointed producers.
The National Association of Insurance Commissioners' model regulation stipulates:
"An insurance company or insurance producer shall not pay a commission, service fee, brokerage or other valuable consideration to a person for selling, soliciting or negotiating insurance in this state if that person is required to be licensed under this Act and is not so licensed."
Additionally, in states that require carrier appointments…
"An insurance producer shall not act as an agent of an insurer unless the insurance producer becomes an appointed agent of that insurer."
Neglecting this ongoing producer management is risky business for otherwise risk-averse businesses. Unfortunately, many insurance carriers and agencies perform only annual or monthly checks to validate licensing and appointment data. But on an ongoing basis, even after a producer has been onboarded, a carrier or agency should:
Verify proper license and appointments before commission payouts.
Renew producer licenses. While the ultimate responsibility for licensing renewal lands on producers, agencies have traditionally borne renewal costs and tracking timelines as a service for their agents.
Track continuing education and product training. States and carriers often both have specific requirements for producers depending on their line of business. These education and training requirements are not negotiable when it comes to license and appointment renewal.
Renew carrier appointments. Some states don't require appointments, and some don't require appointment renewals, but most states require some sort of renewal, on an annual or biennial basis.
Offboarding producers
The end of the producer lifecycle is, for lines of business, determined by the industry's seasonality. Other times, the producer is retiring or leaving the industry. Or, for some agencies or carriers, termination may be as banal as the agent hasn't written business in a specified period. Of course, there are also less savory reasons for termination.
Essentially, carriers who must terminate an appointment and offboard a producer have two responsibilities. There may be more to untangle in the relationship depending on your arrangement, but, again, this is specifically in regard to producer management:
Notify the producer in writing of your intent to terminate your agreement and appointment. Many states require a written notice of termination, so this is something you'll want to keep a record of.
Terminate the carrier appointment with the states, indicating cause if necessary. Some states require carriers to terminate for cause, in which case you'll need to understand the different allowable causes of termination. Other states are pretty happy with just a name and a date.
Why producer management matters
Certainly, there are other things a carrier, MGA, or agency has to contend with. Marketing, underwriting, actuarial policy building, claims-paying, commission payments, policy administration, client relationship building: Each is a critical part of the mission of insurance. But good producer management supports these other services because, fundamentally, failure to stay in compliance could derail your other work. Following regulatory standards is foundational to being able to operate the rest of your business.
And, aside from the obvious regulatory caveats of "without licensed producers you can't legally sell insurance," a good producer lifecycle management experience also lets your agents do what they do – sell insurance – more efficiently. Less time spent rekeying information and tracking down repeated data or paperwork means more time in front of clients, and more satisfaction with your agency or carrier business, and more retention in the end.
If you're interested in smarter producer management, see what AgentSync Manage can do for you.
Disclaimer - AgentSync does not warrant to the completeness or accuracy of the information provided in this blog. You are responsible for ensuring the accuracy and totality of all representations, assumptions, information and data provided by AgentSync to you in this blog. The information in this blog should not be construed as legal, financial, or other professional advice, and AgentSync is not responsible for any harm you sustain by relying on the information provided herein. You acknowledge and agree that the use of this information is at your own risk. You should always consult with the applicable state and federal regulatory authority to confirm the accuracy of any of the information provided in this blog.