Solutions
MGAs / MGUs
Let technology help manage your distribution channel with contracting, licensing, appointments, & compliance solutions.
THE PROBLEM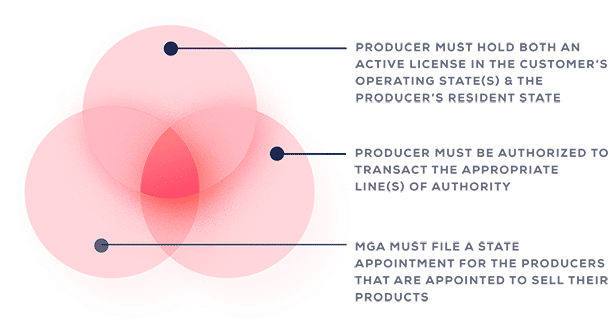 NOW WITH AGENTSYNC MANAGE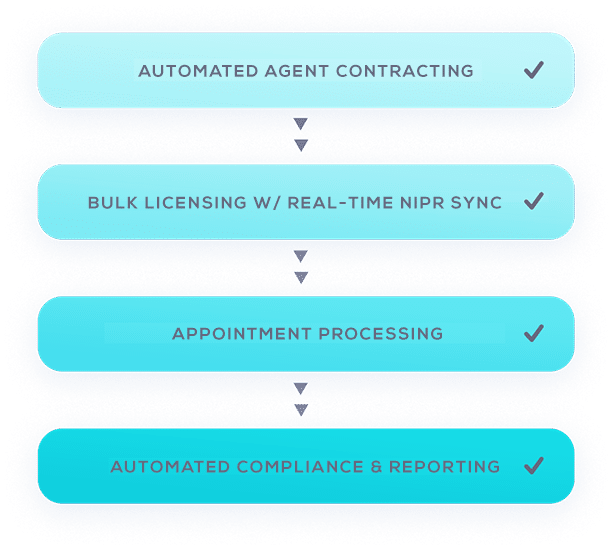 Want to see AgentSync Manage in action?
We recorded a 14-min live demo to show a bit of what we can do for MGAs.
Watch MGA Demo
Discover the AgentSync Self-Service Onboarding Portal
The agent onboarding portal provides a seamless workflow and creates massive efficiencies for carriers, MGAs, and agencies. Vastly improve your agent experience, enabling them to begin selling in minutes, not days.
Schedule your own full demo by emailing info@agentsync.io today.
Watch Onboarding Portal Demo
Features
Fast Implementation
Basic setup can be completed in days, not months, and can be deployed within an existing Salesforce environment or as a standalone installation if you're not currently using Salesforce.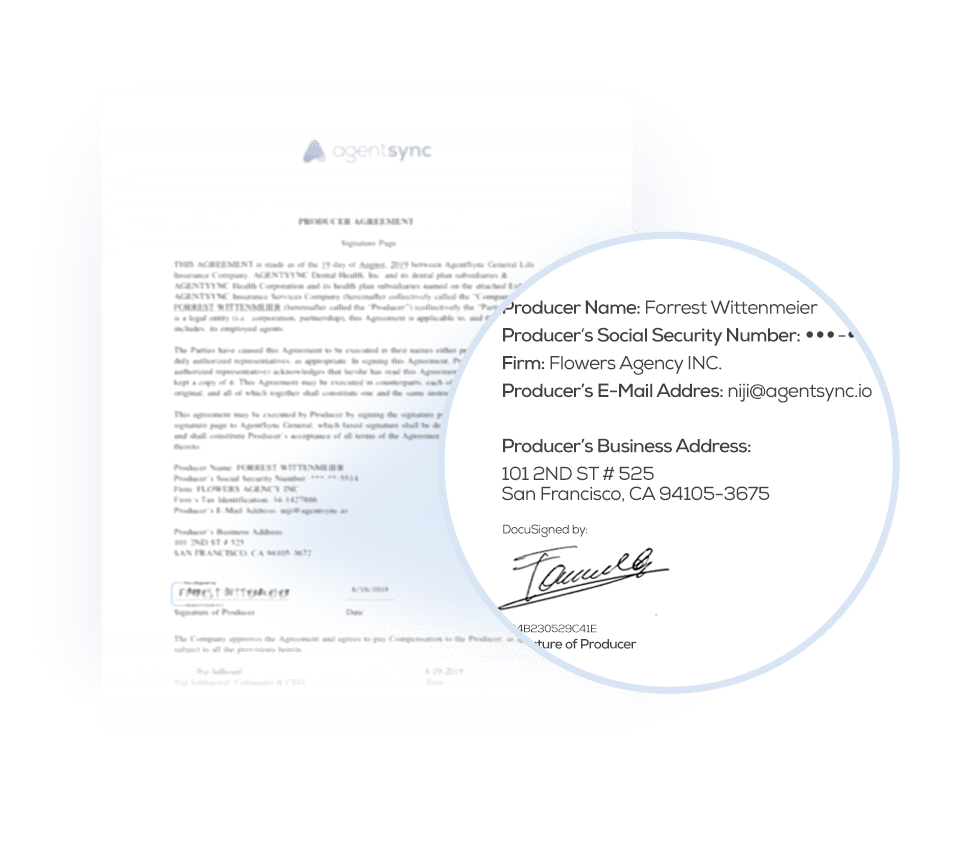 Automated Agent Contracting and Streamlined Onboarding
In one click (or as part of an automated workflow) generate producer agreements auto-populated with Agent & Agency info, W9, and E&O Policy.
Agents are the lifeblood that drive sales. Drastically reduce time to sell and end the paper chase while reducing the security risk of exchanging sensitive data over email. A slick, modern onboarding experience will leave them with a great first impression.
The Agent Record Sync with NIPR
Simply enter the producer's NPN to import the agent record from the NIPR PDB (Producer Database), done in real time at onboarding or in bulk via CSV upload, up to 5k records at a time.
Records are automatically synchronized with NIPR and updated daily, highlighting any changes in contact info, licenses, appointments, and even regulatory actions.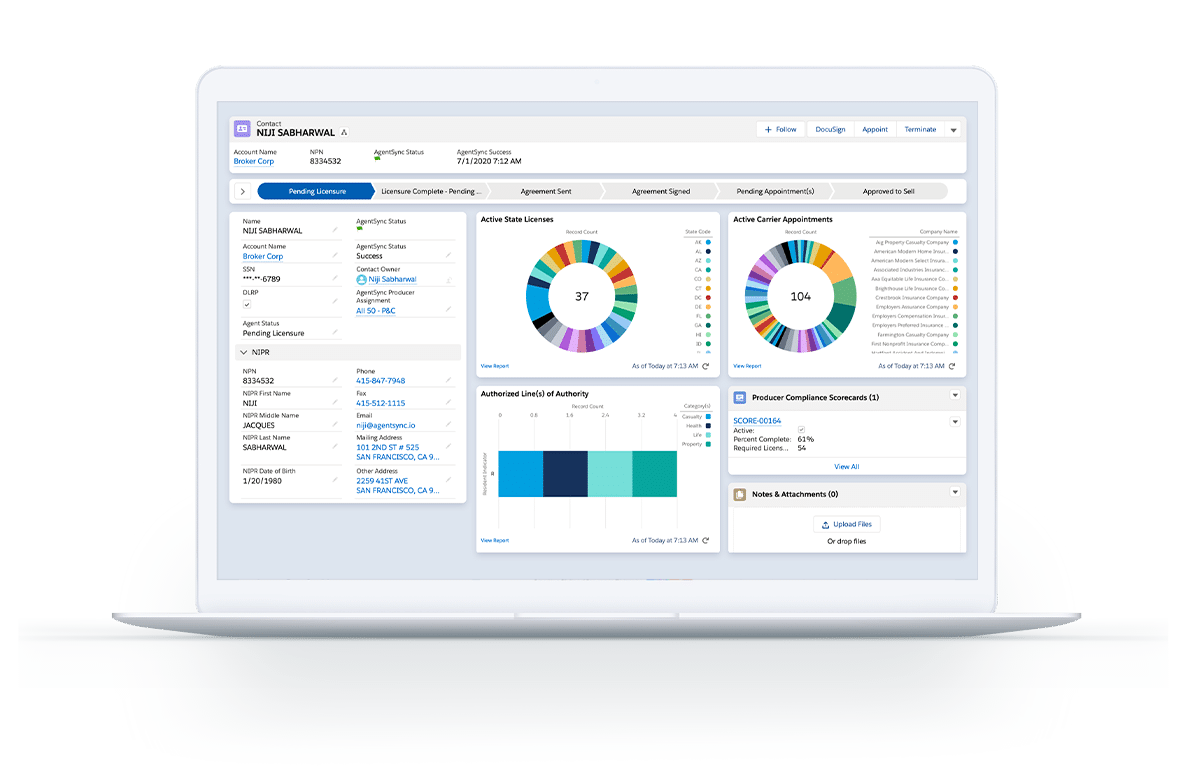 The Agent Portal
We create a branded portal for you (included in the implementation) where all producers can login to view their licenses, carrier appointments, update their bio/contact info, answer background questions, upload documents, and more.

Automatically-generated Compliance Analysis Through Scorecards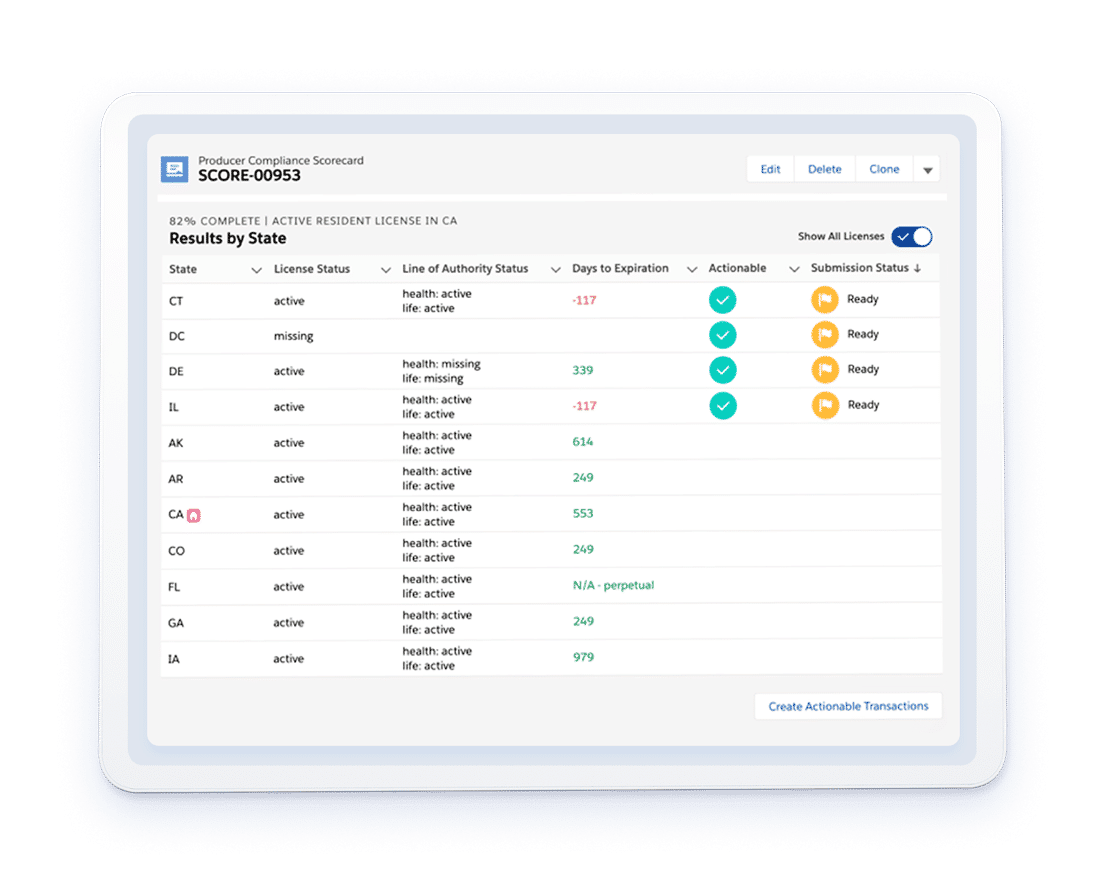 Effortlessly verify credentials—as soon as a producer is assigned to a Producer Assignment, a Compliance Scorecard is generated that identifies any gaps in compliance.
Quickly zero in on what is missing where and for whom. The scorecard provides granularity by State, Missing License, Missing Line of Authority, and Missing Appointments. This level of detail reduces any confusion on what remediation needs to occur.
Scorecards are automatically recalculated as new licenses and appointments are approved in NIPR through the direct NIPR integration.
Submit appointments in a few clicks or as part of an automated workflow
During setup we work with your team to load in state and LOA rules and settings.
The appointment options will only display appointments that the producer is eligible for based on their licensure. Choose real-time or automated 'just-in-time' submission.
Click here to watch our 3-minute overview video on our just-in-time appointments feature.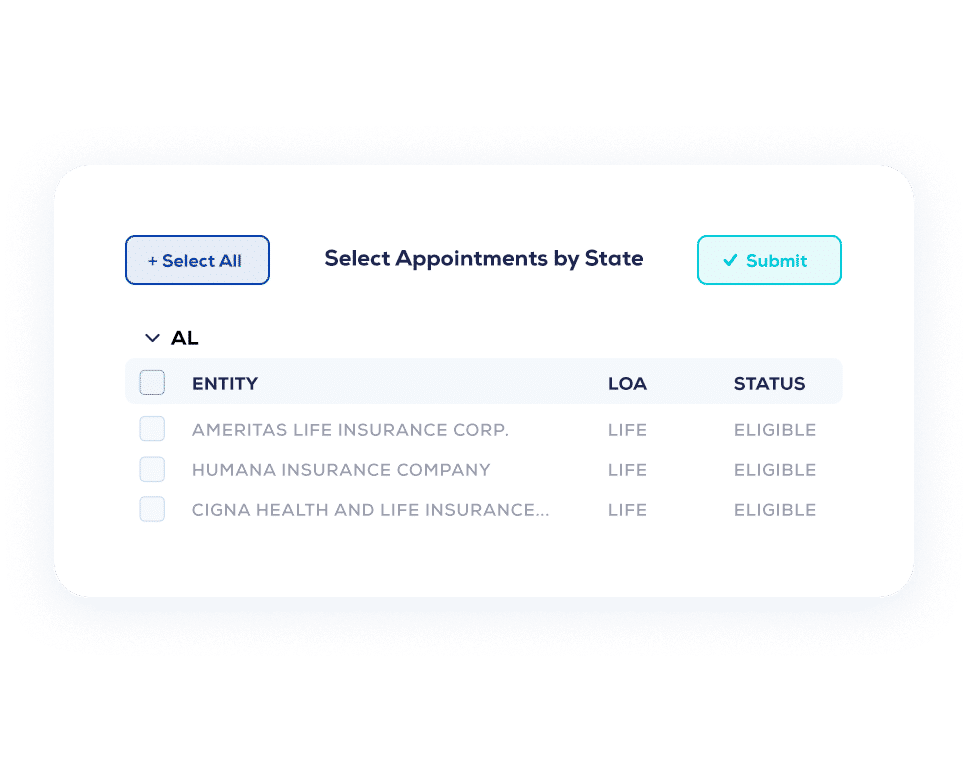 Apply for and Renew Licenses Directly from Salesforce
Take licensing and appointment management one step further by automatically applying for missing licenses, lines of authority, or appointments based on Compliance Scorecard results.

Distribution channel management
Drive visibility, insights, and actions.
Since AgentSync Manage pulls in all carrier appointments (including competitors) you gain valuable insight into share of wallet across your entire distribution channel.
Action this competitive intelligence by automating tailored marketing communications to your agents based on geography, lines of business, and transaction volume.
Dashboards & reports are easily customizable – AgentSync Manage comes preloaded with the basics to get you started.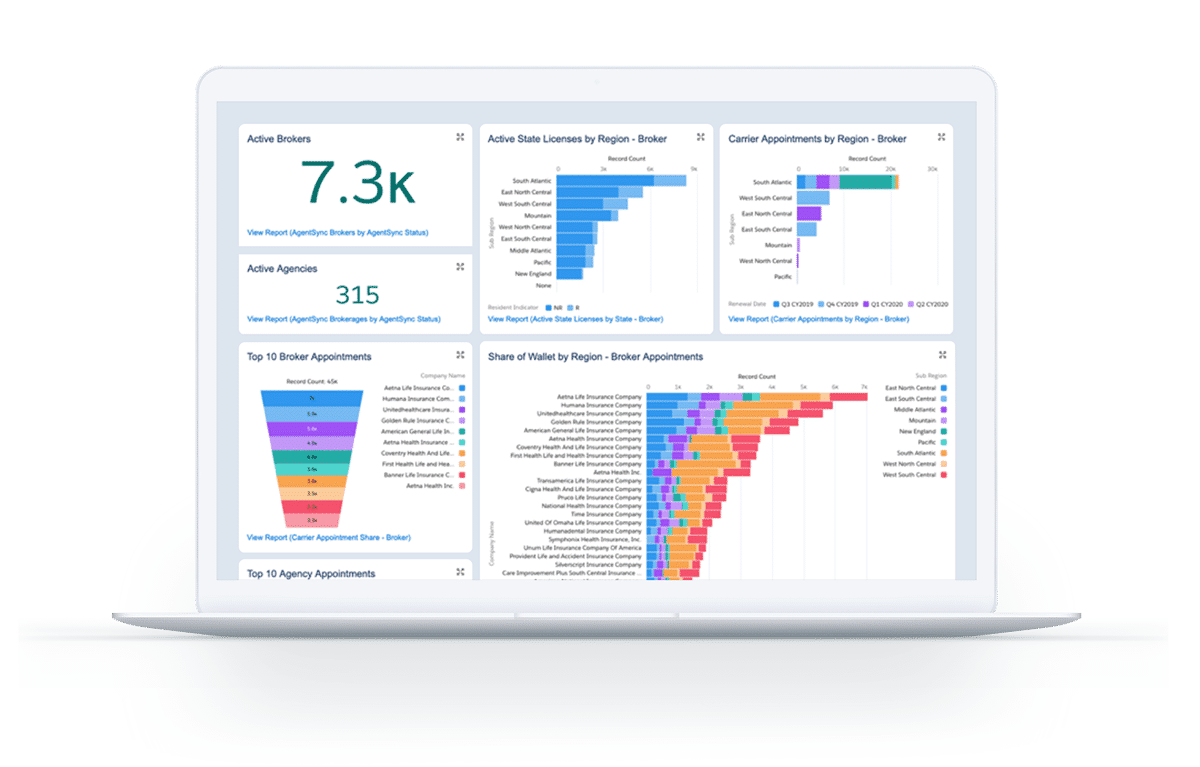 Your producers' data now lives in Salesforce, giving you the advantage of powerful reporting and analytics. NIPR data is normalized and organized into a digestible data model to facilitate reporting—drill into any component for additional details.
Data Security & Privacy
Built on the Salesforce® platform and fully reviewed and approved by their security team. Your data is as safe as it gets.
Since the AgentSync app integrates directly to NIPR, data is transmitted directly between your CRM and NIPR.
Once the app is installed, AgentSync can't see your data even if we wanted to. You can choose to give us temporary login access during setup or troubleshooting, but the only data sent to AgentSync is aggregated API usage metrics for billing purposes.
A full list of Salesforce's certifications can be found here.
Want more information?
Here are some resources for more information about AgentSync Manage for MGAs/MGUs.