Solutions
Agencies
Meeting compliance requirements is not easy.
The Problem
For a transaction to meet compliance requirements (and avoid costly regulatory violations) it has to meet the below criteria: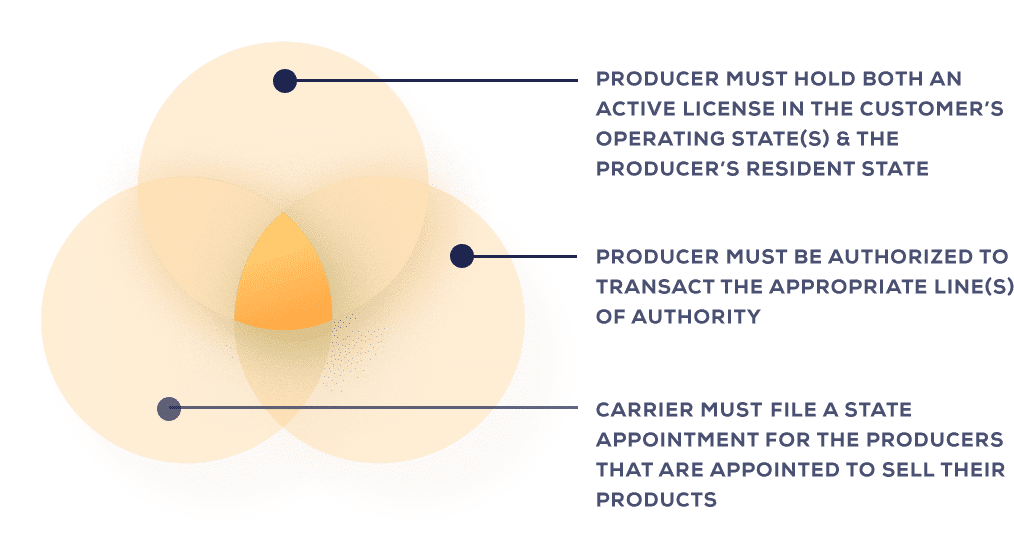 Now With AgentSync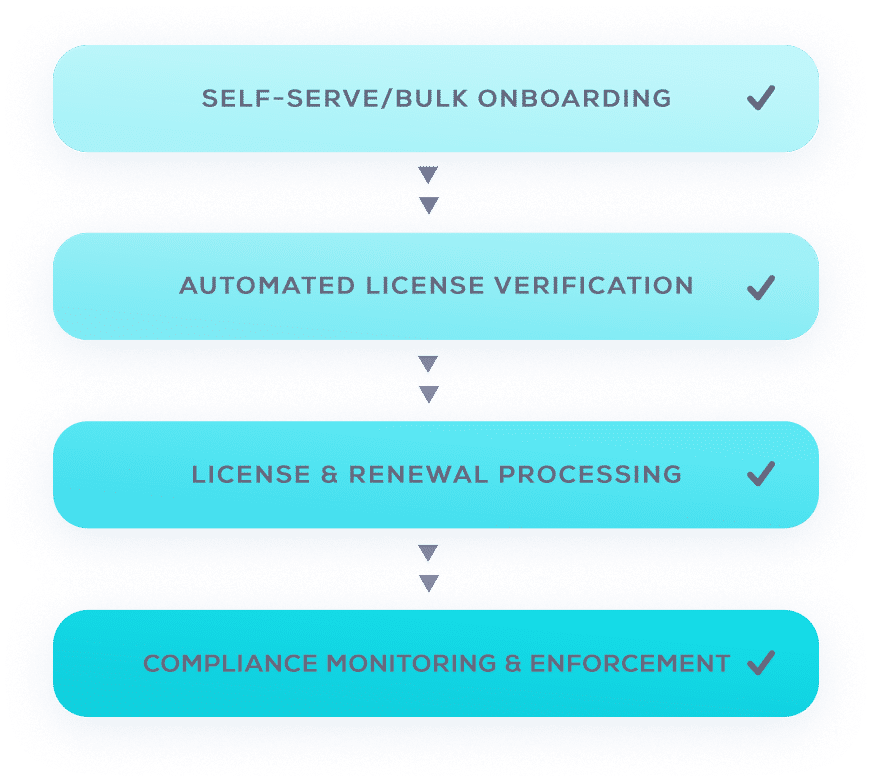 Want to see AgentSync in action?
We recorded a 20-minute demo in a live production environment so you can get an overview of what we can do for Agencies.
Watch Recorded Demo
Features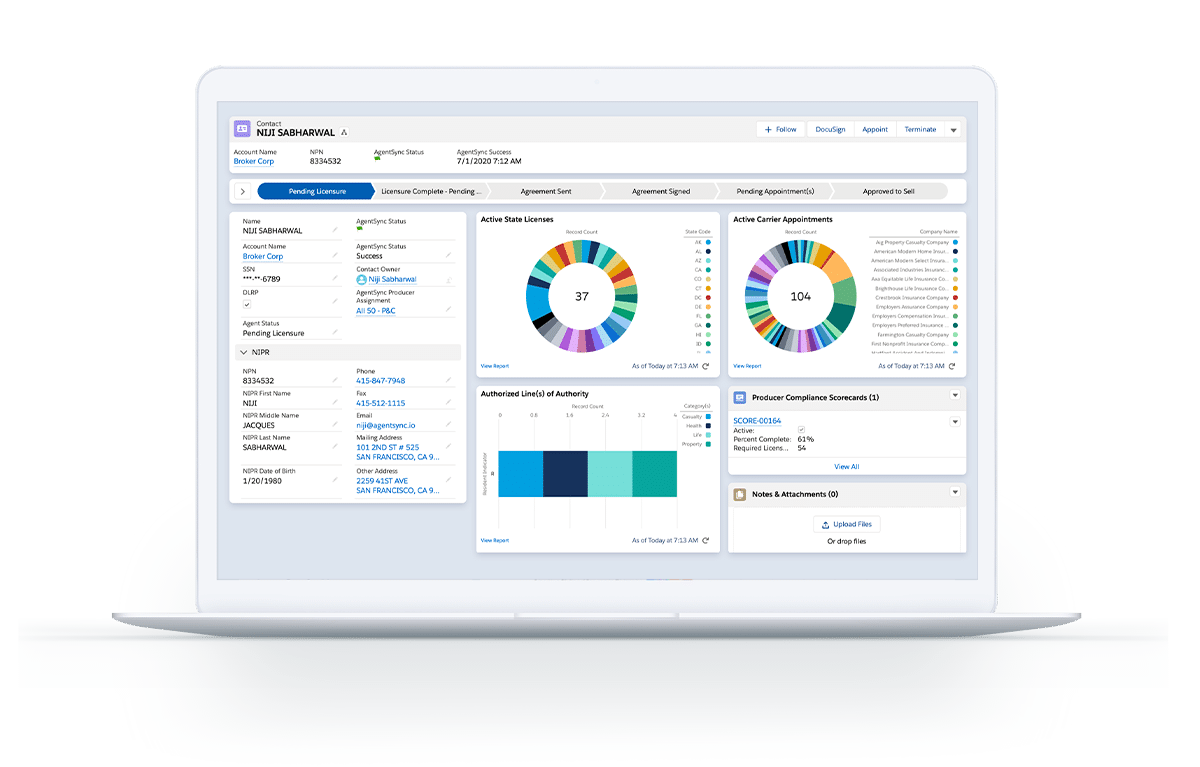 The Agent Record Sync with NIPR
Simply enter the producer's NPN (National Producer Number) to import the agent record from the NIPR PDB (Producer Database) in real time at onboarding or in bulk via CSV upload.
All active agent records are automatically synchronized with NIPR – AgentSync is updated daily to reflect any and all changes as information changes in NIPR.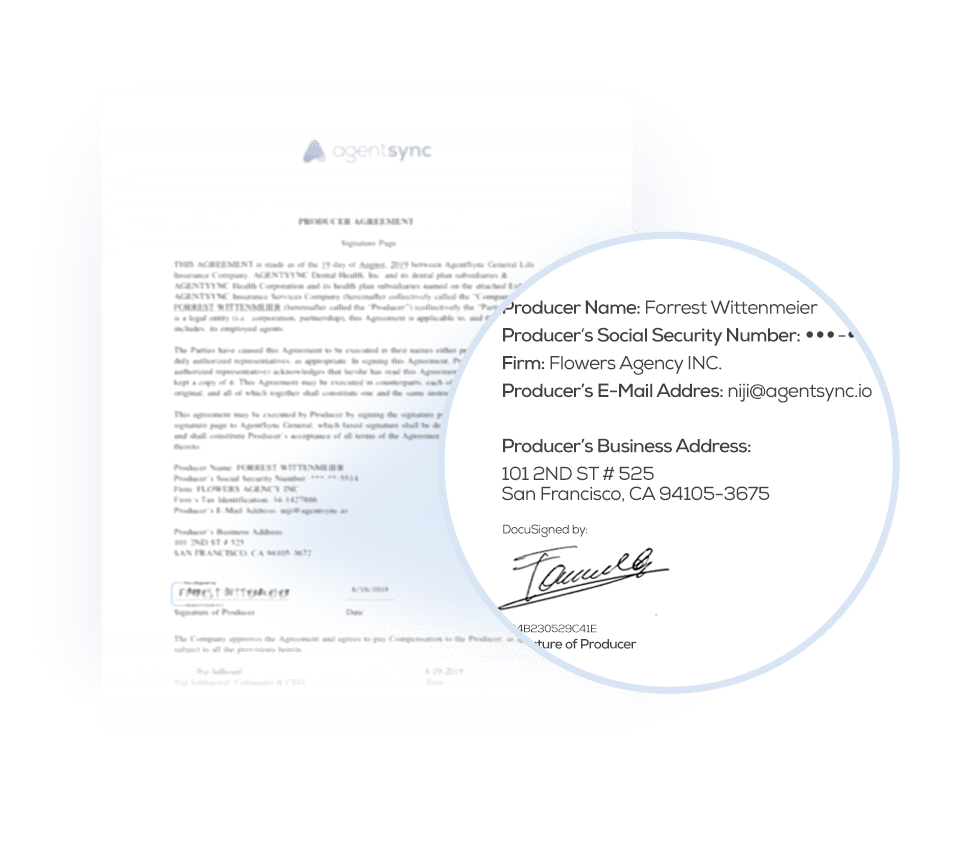 Automated Agent Contracting
In one click, or as part of an automated workflow, generate producer agreements auto populated with Agent & Agency info, W9, and E&O Policy captured during onboarding.
Drastically reduce time to activate Agents, remove internal man-hours from the process, and delight your Agents with a seamless onboarding experience.

The Agent Portal
All producers can view their licenses, carrier appointments, update their bio info, answer background questions, upload documents, etc.—directly from Salesforce or by logging into the AgentSync Portal.
PORTALS ARE BRANDED WITH YOUR COMPANY LOGO, COLORS, ETC. (INCLUDED IN IMPLEMENTATION).

Automatically-Generated Compliance Analysis Through Scorecards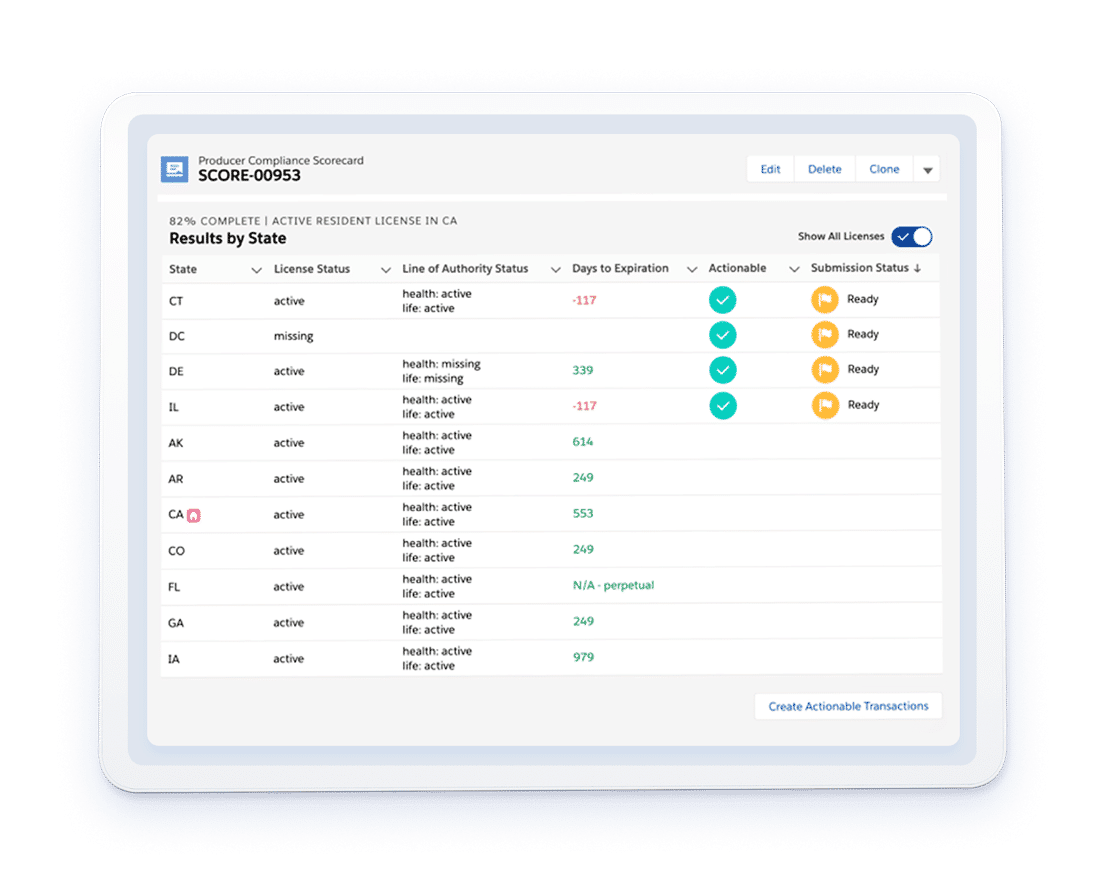 Effortlessly verify credentials. As soon as a producer is assigned to a Producer Assignment, a Compliance Scorecard is generated identifying any gaps in compliance.
Quickly zero in on what is missing where and for whom. The scorecard provides granularity by State, Missing License, Missing Line of Authority, and Missing Appointment. This level of detail reduces any confusion on what remediation needs to occur.
Scorecards are automatically recalculated as new licenses and appointments are approved in NIPR through the direct integration.
Dashboards & Reports
Self-serve, drag and drop customization, and one click exports
Your producers' data now lives in Salesforce, enabling you with the advantage of powerful reporting and analytics. NIPR data is normalized and organized into a digestible data model to facilitate reporting – drill into any component for additional details.
Dashboards & reports are easily customizable – AgentSync comes preloaded with the basics to get you started. The self-serve report customization user interface is incredibly intuitive (similar to pivot table in excel) but if you need any help the AgentSync support team can help you build or customize a report at no additional cost.
Compliance Scorecard Dashboard
Aggregate actionable insight into the overall credential status view.
Scorecards are automatically recalculated as new licenses and appointments are approved in NIPR through the direct integration, so you know your information is always current & up to date.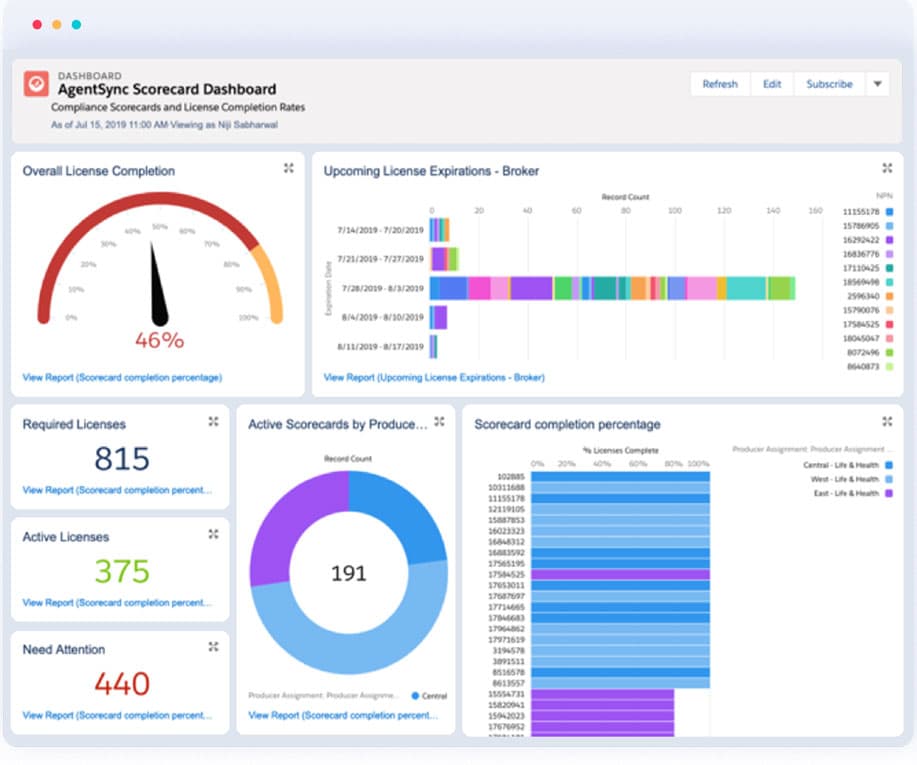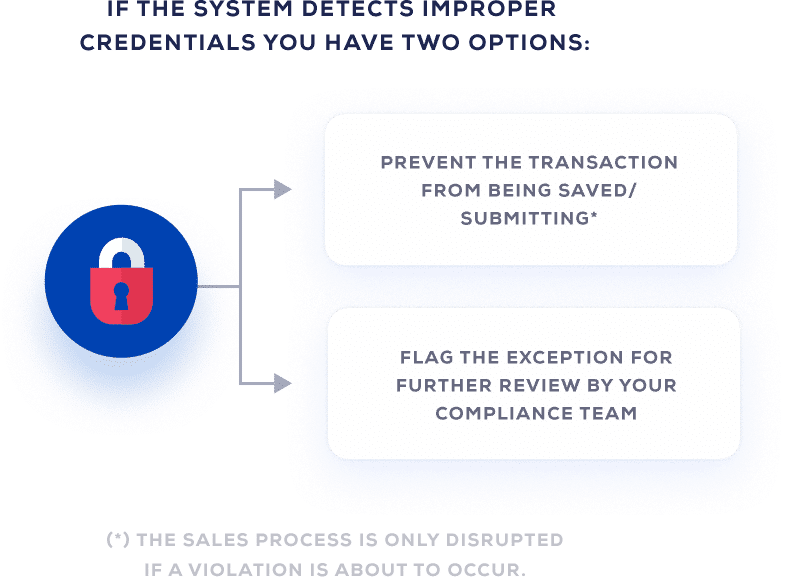 Real-time Compliance Controls
Prevent violations before they occur as a last line of defense.
Enforce proper credentials in real time as your producers submit transactions into the system. You choose when and where to check agent credentials based on the customer's location and insurance lines.
(optional feature)
Apply for and Renew Licenses Directly from Salesforce
Take licensure management one step further by automatically applying for or renewing licenses, and lines of authority based on Compliance Scorecard results. There are three submission processing options: Fully Auto, Semi-Auto, and Manual.
Quickly process license transactions as one-off by state, multiple states by producer, or multiple states for multiple producers. Effortlessly producer contact info changes to all states in a click of a button.
As licenses are approved in NIPR they will appear in your system via the direct integration and will trigger recalculation of the Compliance Scorecards – completing the remediation life cycle.

Intuitive self-serve producer info collection
Think "master paper licensing form" – Collect required details from your producers to be used to populate NIPR transactions. Since AgentSync gets most of the information through the NIPR integration we prepopulate most of the form – producers need to fill out SSN, employment history, background questions, etc.
MANAGE PRODUCER DETAILS RECORD



Submit contact info changes to every state where the producer holds an active license in one click by hitting the "Contact Info Change Request" button. This service is 100% free and avoids costly fines issued by the state for untimely notification filings. Information entered into the form is validated page by page for common errors or format issues.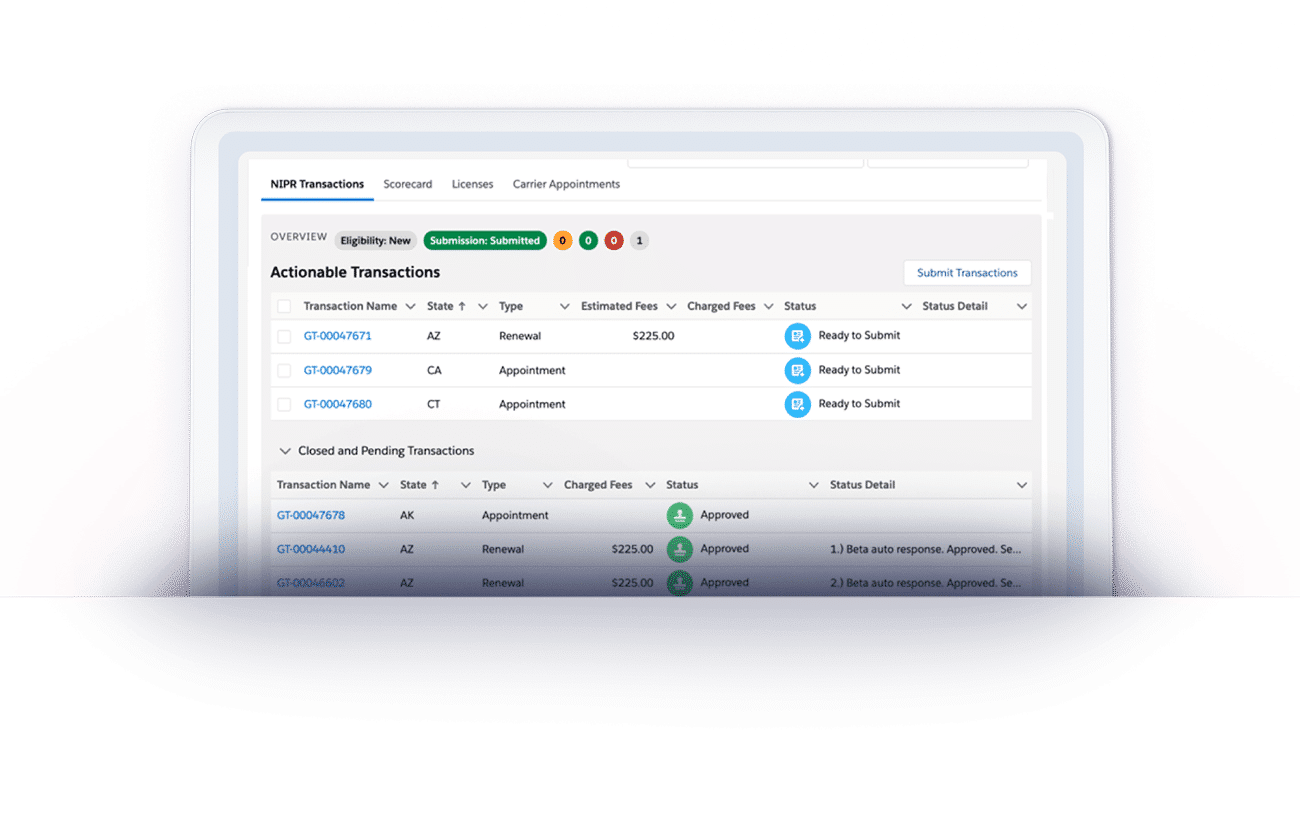 Bulk NIPR Transactions
AgentSync will automatically assess producer's eligibility based on requested transaction(s) and provide stats on each state's status complete will estimate fee calculations.
Manage open transactions in one easy place – statuses are automatically updated, you don't even need to refresh the screen.
AgentSync Accelerate
Submit appointments, terminations, licenses, renewals, and contact info changes directly to NIPR.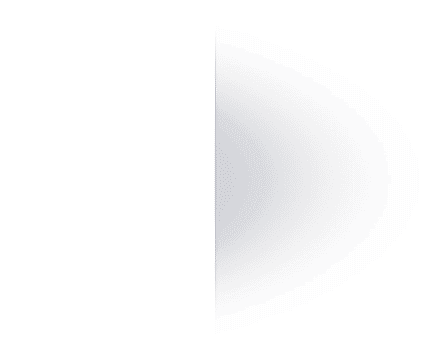 Bulk process renewals and missing credentials for up to 10 producers at a time.
Dramatically accelerate your compliance processes.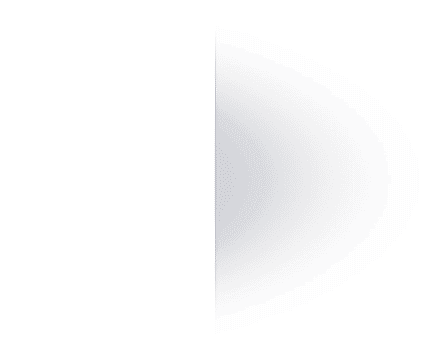 Bulk import up to 5K producers at a time via drag & drop CSV upload.
Data Security & Privacy
Built on the Salesforce® platform and fully reviewed and approved by their security team. Your data is as safe as it gets.
Since the AgentSync app integrates directly to NIPR, data is transmitted directly between your CRM and NIPR.
Once the app is installed, AgentSync can't see your data even if we wanted to. You can choose to give us temporary login access during setup or troubleshooting, but the only data sent to AgentSync is aggregated API usage metrics for billing purposes.
A full list of Salesforce's certifications can be found here.
Ready to get started?
Schedule a call with a member of the AgentSync team to go over questions, costs, and more.
Contact Us
Want more information?
Download our 1-page overview for Agencies to get a better idea of what we can do for you.
1-page Agency Overview