 Salvasen Health, Triada Assurance Holdings Operating Without a License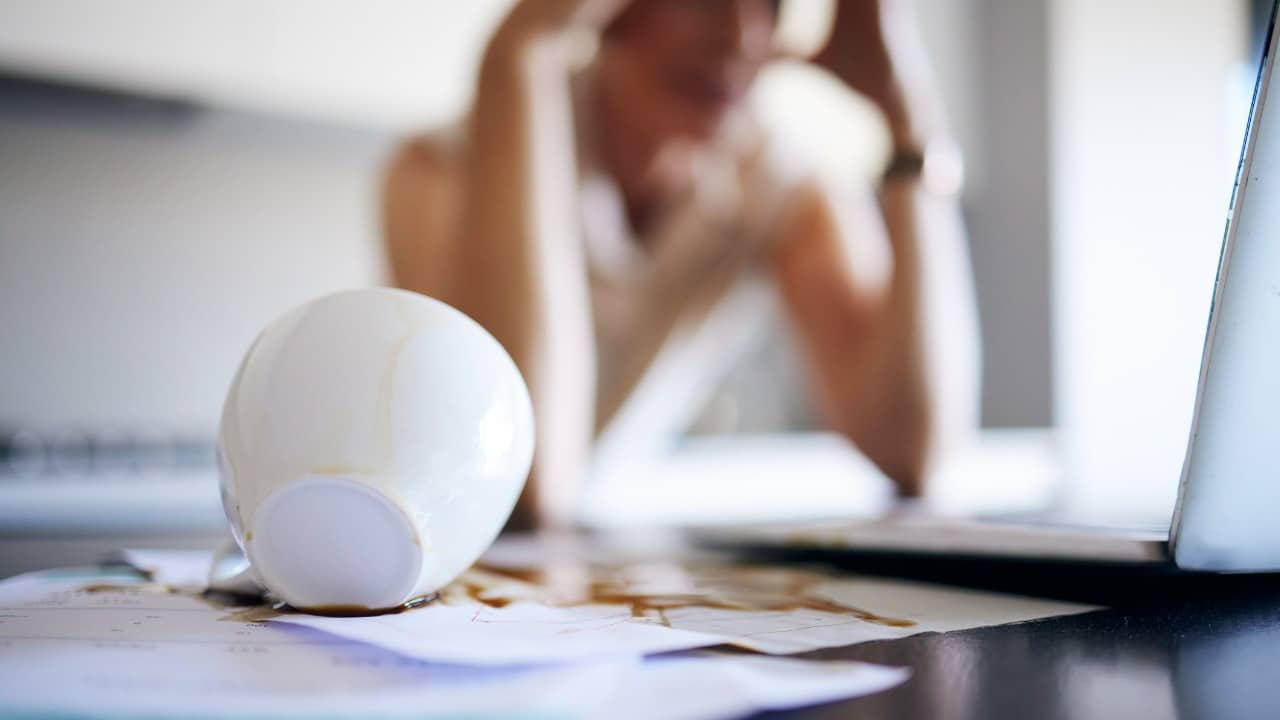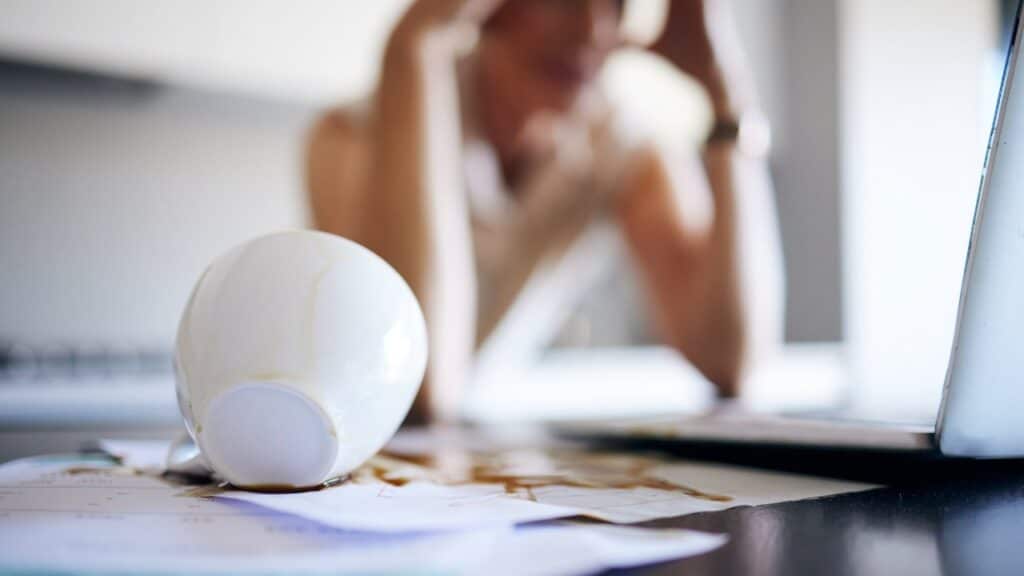 Selling without a license is one of the more obvious no-nos in insurance. Yet, according to multiple states seeking disciplinary actions against Texas-based Salvasen Health, that's exactly what the unauthorized insurance company did.
For consumers taken in by Salvasen – a doing-business-as (DBA) for Triada Assurance Holdings LLC – many states have held open enrollment periods to help them find valid insurance plans that will provide actual health insurance.
While we have covered the special enrollment periods as states announced them in our Regulatory Roundups, the unfolding Salvasen health saga goes well beyond a few policy and procedure anomalies.
Posted April 26, 2022, Texas Commissioner of Insurance Cassie Brown ordered Salvasen Health and CEO Barry Jay Glenn to cease and desist its unauthorized business operations, and wind down business by paying any claims against the company and returning premiums to the affected consumers.
Across the U.S., Salvasen engaged in inappropriate sales
The Texas order said Salvasen began selling policies across the nation – despite having no apparent license or authorization – sometime midway through 2020. The company maintained it stopped all policy sales by the end of May 2021 and voluntarily turned information over to the Texas state compliance department in June 2021.
However, the commissioner said in the order that the state's requests for documentation from the company often went without response. Responding to questions from the AgentSync blog, a spokesperson from the Texas Department of Insurance (TDI) also clarified that Salvasen's self-reported incidents in June weren't related to the company being unauthorized to transact insurance business.
Colorado noted the company sold about 400 policies there. Wisconsin had more than 200.
In all, Texas's information indicated the company sold policies to about 65,000 consumers across the country.
By the end of 2021, Salvasen had about 39,000 policyholders who paid about $23.9 million in premium. At the order of states across the country, Salvasen terminated their remaining plans at the close of March 2022.
Although a website holding them out as an insurer remained active as of May 3, 2022, the contact options appeared to be directed toward claims. A TDI spokesperson said this was allowable as long as the company was using it to fulfill its ordered claims obligations. Our request for a comment from Salvasen through the website went unanswered.
Special enrollment periods (SEPs) to address Salvasen/Triada policyholders
The states that operate their own healthcare exchanges have announced special enrollment periods (SEPs) to provide coverage for consumers who have discovered their Salvasen health insurance premiums didn't in fact entitle them to coverage.
Nevada, Massachusetts, Minnesota, Colorado, and Wisconsin all issued their own orders and open enrollments through April to combat the problem. Many states, however, don't operate local health insurance exchanges, and instead rely on the federal health exchange run by the Centers for Medicaid and Medicare Services (CMS). A health policy insider publication claimed CMS will open a special enrollment period for Salvasen's policyholders until early June.
Texas's insurance regulators also are reminding consumers about what alternative health plans entail, including that they aren't a substitute for major medical coverage.
Selling without a license
In many states, getting an insurance license for a producer is relatively uncomplicated. The process often looks something like: Get a background check, study, and take an exam. Then get appointed by an insurer or join an agency and begin selling. Carrier requirements are necessarily more difficult, involving minimum bonds, annual audits, and other financial controls to ensure they can make their underwriting obligations and pay claims.
Some companies may find themselves coloring outside the lines at some point, typically by accident, when someone has missed a deadline on license renewal, registration, or other duty. In fact, it's enough of an issue in the industry that our founders literally built a company on the premise that it should be easier – and automatic – to stay atop licensing and appointment requirements.
Yet, while details continue to roll out, this may not be a simple case of accidental license missteps. For one thing, Glenn, the Salvasen/Triada CEO, was licensed as a Texas general lines agent from 2006 to 2018, but hadn't maintained a license for more than a year when the company began selling, according to the Texas Department of Insurance. For another, as multiple states pointed out in their news releases, Salvasen Health isn't an authorized insurance carrier in any of the states they sold in. A company lookup with the National Association of Insurance Commissioners (NAIC) and Texas's state database shows no licensed insurance carriers operating with that name, either.
Despite being unauthorized, state filing documents allege Salvasen Health's website surfaced when consumers searched for "Affordable Care Act plans," and "ACA-compliant insurance coverage." Salvasen offered what appeared to be life and health insurances such as wellness and preventative care health insurance, critical illness insurance, accidental death and dismemberment coverage, dental, and other wrap-around or gap coverage.
Consumer complaints against Salvasen
Many of the states indicated the issue with Salvasen's unlawful compliance sales first surfaced in consumer complaints – often with four or five initial consumer complaints kicking off a more extensive investigation.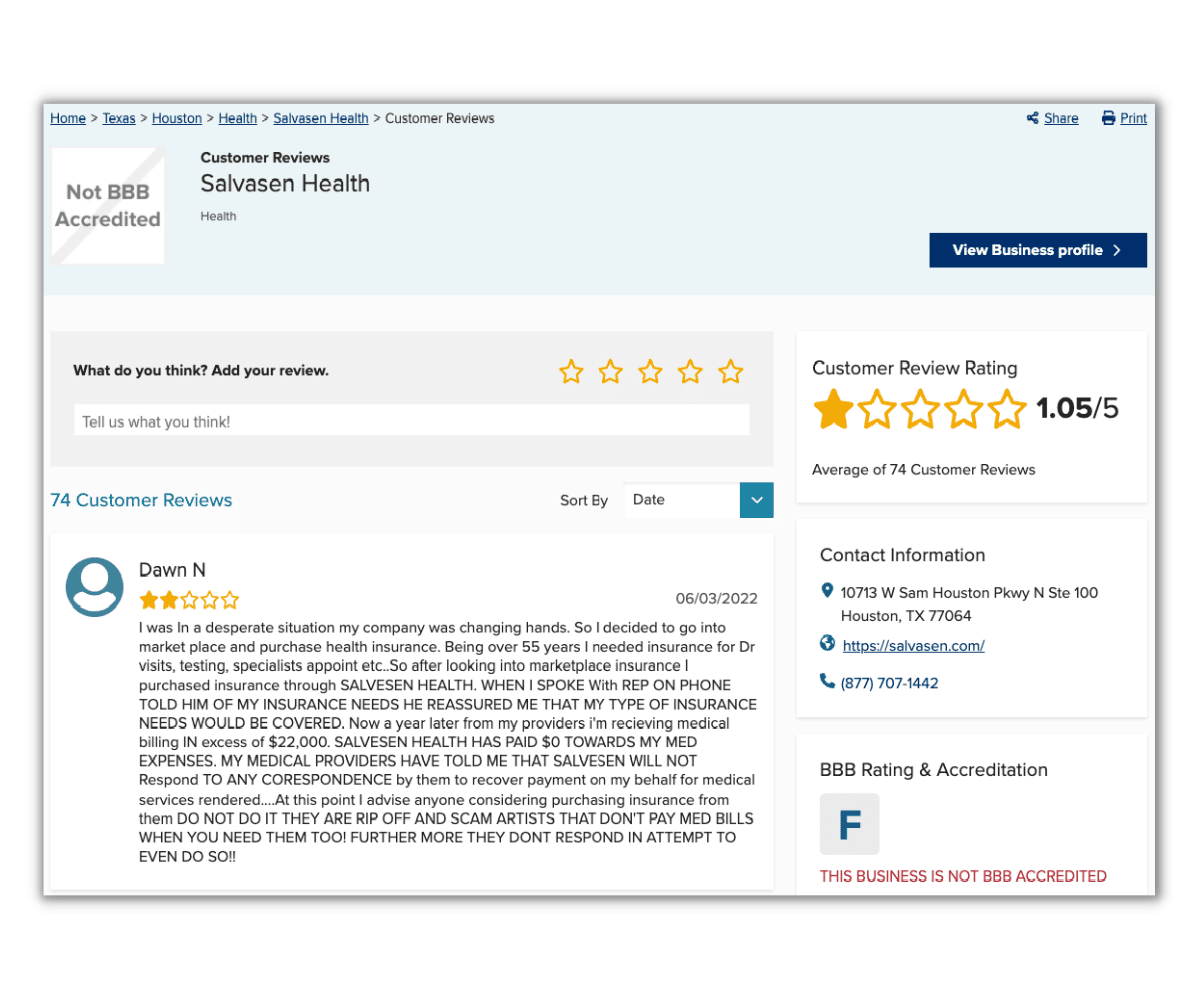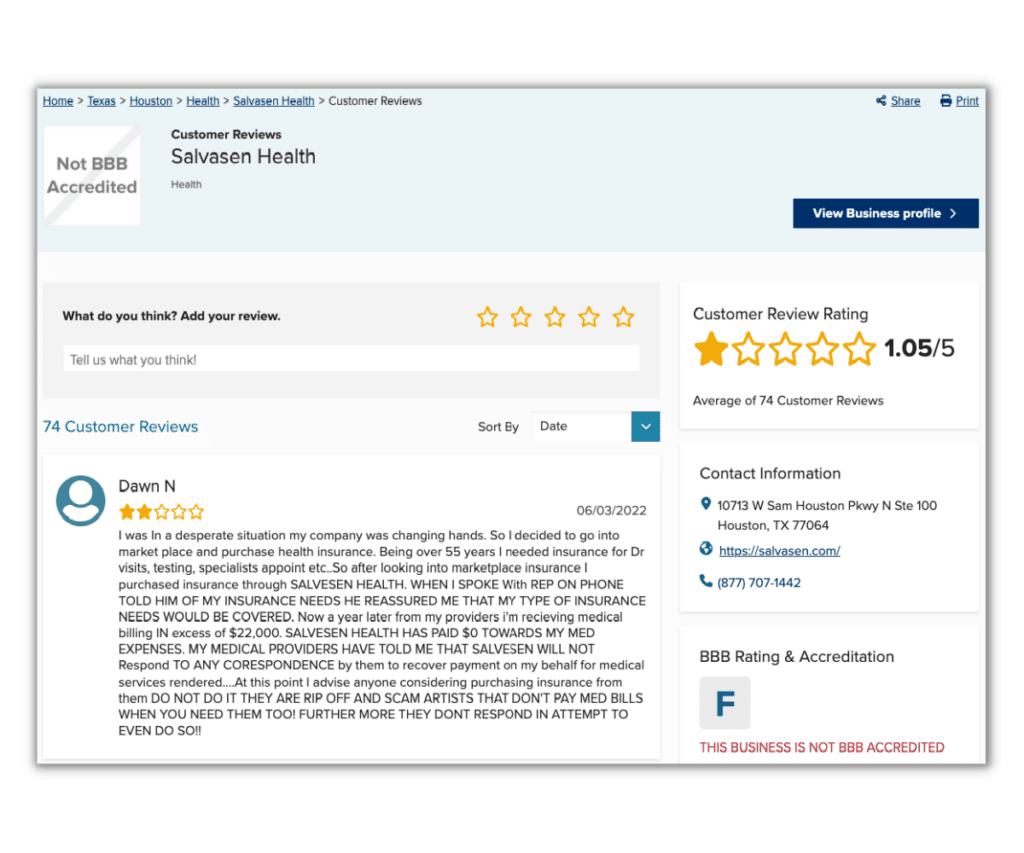 Wisconsin's Office of the Commissioner of Insurance filing in the matter of Salvasen Health LLC notes several complaints, including:
A consumer who specifically requested four policies that a company representative held out as being covered under the Affordable Care Act, only to receive a "membership card" bearing the words "This plan is not ACA compliant."
Consumers who reported purchasing coverage because it purportedly paid 100 percent of preventative care services, only to have their claims be impossibly difficult to navigate for payment.
A consumer who realized the "coverage" wasn't as stated and had difficulty canceling the plan.
A consumer who purchased one specific policy coverage and then, upon trying to get claims paid, was told he had a different policy type that didn't provide coverage for his specific services.
While Salvasen isn't accredited by the Better Business Bureau, reviews left on the business's BBB page are telling. With a 1.04-star rating (out of a possible five), the reviews are scorching, with many consumers labeling it a "scam," citing thousands of dollars in useless premium payments, and lamenting crushing unpaid medical bills. From primary care to emergency visits to hospital stays and disability claims, denied claims abounded.
"An expensive emergency room visit showed me they're not insurance I can use anywhere besides a remote island off the coast of scam city," said user Kristen N.
Salvasen's 2020 startup timeline coincides with the coronavirus shutdowns across the nation, which BBB user reviews reflect, with many reporting that they bought plans after losing their employer-provided healthcare from COVID-19 layoffs.
While Texas's order that Salvasen must pay all claims and return premiums should help, it's likely the victims of unlicensed insurance sales will take more than that to be made whole, with unpaid bills affecting credit scores, lifestyle, job choices, and even housing options for many in the meantime.
Crime and punishment
Texas and other states will undoubtedly have more to say in the coming months as they pursue action against Salvasen and Triada Assurances Holdings.
In addition to demanding they return premium payments and pay claims, many states have levied fines on behalf of their insurance departments. Perhaps a $14,000 forfeiture to the state of Wisconsin doesn't sound like much, but that amount could grow substantially once all the states have had their say.
Texas's order demands that the "Respondents" – meaning Salvasen and Glenn – cease and desist from "engaging in the business of insurance," "effective immediately."
The plan for winding down, which has been agreed to in the consent order by Glenn's signature, includes biweekly reports from Salvasen to the TDI through September 2022, claims paying, return of premiums (on a pro-rata basis, if full return is impossible). Lest one think the situation is easily remedied and Salvasen only needs to come into compliance to continue operation, the consent order also notes:
"Respondents are ordered not to apply for any TDI-issued license or authorization for 10 years from the date of this order. During that time period, Respondents will not participate in or act as an owner, officer, or shareholder of any TDI-authorized entity."
Triada Health LLC and Barry Glenn
Glenn, the president and CEO of Salvasen, currently also serves as CEO and President of another company, Triada Health LLC, which the consent order recognizes as separate from Triada Assurance Holdings and Salvasen.
Currently, Triada Health LLC shares the same address as Triada Assurance Holdings/Salvasen: 10713 W. Sam Houston N.
Suite 100
Houston, TX 77064
And, while the Triada website holds the company out as a provider of gap and supplemental health insurance, Triada Health LLC also doesn't show up as an authorized carrier in the NAIC's database or in the Texas state search. Despite having signed the consent order to cease and desist and no longer conduct business in Texas on April 16, 2022, Glenn was still listed as CEO of Triada Health on a website that indicated it was accepting new enrollees as of May 3, 2022.
The Texas Department of Insurance spokesperson said they couldn't comment on an ongoing investigation but acknowledged the department is aware of Triada Health LLC's activities.
During the economic crisis brought on by the 2020 pandemic, Triada Health LLC, based in Houston, Texas, accepted $124,244 in Paycheck Protection Program loans from the federal government, and had the loan plus interest forgiven as coverage for 12 employees, according to a report published by watchdog organization ProPublica. According to the application, Triada Health is in the "offices of physicians (except mental health specialists)" industry.
Taking care of consumers' enrollment in new, real health care coverage may be the first step, but no doubt this story will continue to evolve as the states explore enforcement actions, and as courts untangle Triada Health's involvement or lack thereof with Triada Assurance Holdings and Salvasen Health.
One early takeaway from the saga must surely be that, in the absence of federal coordination of the insurance industry, carriers, agencies, and producers who are dedicated to being on the up-and-up with state regulatory compliance should take a proactive, automated approach.
If you're interested in making sure your compliance is quick and automatic, or to see how AgentSync can help you vet and verify your downstream partners, check out our solutions.
Disclaimer - AgentSync does not warrant to the completeness or accuracy of the information provided in this blog. You are responsible for ensuring the accuracy and totality of all representations, assumptions, information and data provided by AgentSync to you in this blog. The information in this blog should not be construed as legal, financial, or other professional advice, and AgentSync is not responsible for any harm you sustain by relying on the information provided herein. You acknowledge and agree that the use of this information is at your own risk. You should always consult with the applicable state and federal regulatory authority to confirm the accuracy of any of the information provided in this blog.