 Medicarians 2022: The Future of Medicare Advantage and Supplement Insurance Producers
Medicare faces numerous challenges in the years to come, with regulatory trends, federal funding, and increasing lifespans all playing a role in the future of the program and its private spinoffs.
Yet, as digital adoption rolls in fits and starts with Medicare recipients, early rumors that digital would supplant producers have died out. Generally, the industry understands there will continue to be a human element in this human business, but the question stands, what will that role be?
With host Domenick DiCicco, CEO of Benefytt, EasyHealth's CEO David Duel and AgentSync's very own CEO and Co-Founder Niji Sabharwal weighed in on June 8, 2022, at a Medicarians session, "The Role of the Producer: The Next Ten Years."
Application data shows low digital-only adoption rates
Like much of the conference, this fireside chat was abuzz with the question of whether AI had the potential to supplant the role of human agents in Medicare plan selection. DiCicco noted a sizeable percentage of seniors aren't "highly comfortable" buying something like insurance online, a sentiment that was echoed by Duel and Sabharwal.
Duel, whose company has embraced tech-enabled digital sales, weighed in with the opinion that the future may see more digital adoption for seniors, but that the limitations are significant.
"The vast majority of digital apps will still be done with agent-assisted processes because [the range of Medicare products] is just too complicated," said Duel. "Even if a senior got fairly far down a funnel with online only applications … producers aren't going anywhere anytime soon."
Duel spoke from experience, noting that the entirely self-service portals have seen very little adoption among seniors, and many Medicare members who do use the self-service portal have tended to be more likely to churn. The dilemma amounts to a low incentive for self-service, digital only adoption in the industry.
Sabharwal echoed the sentiment, noting, "The percentage of premium written by producers isn't in decline."
He spoke of a "price-sensitivity threshold," where policyowners feel comfortable self-selecting for one-off or inexpensive policies such as renters insurance or travel policies, but "above a certain threshold, policyowners want to talk to a trusted advisor." The importance of Medicare decisions, Sabharwal said, was something that put it in that high-touch category.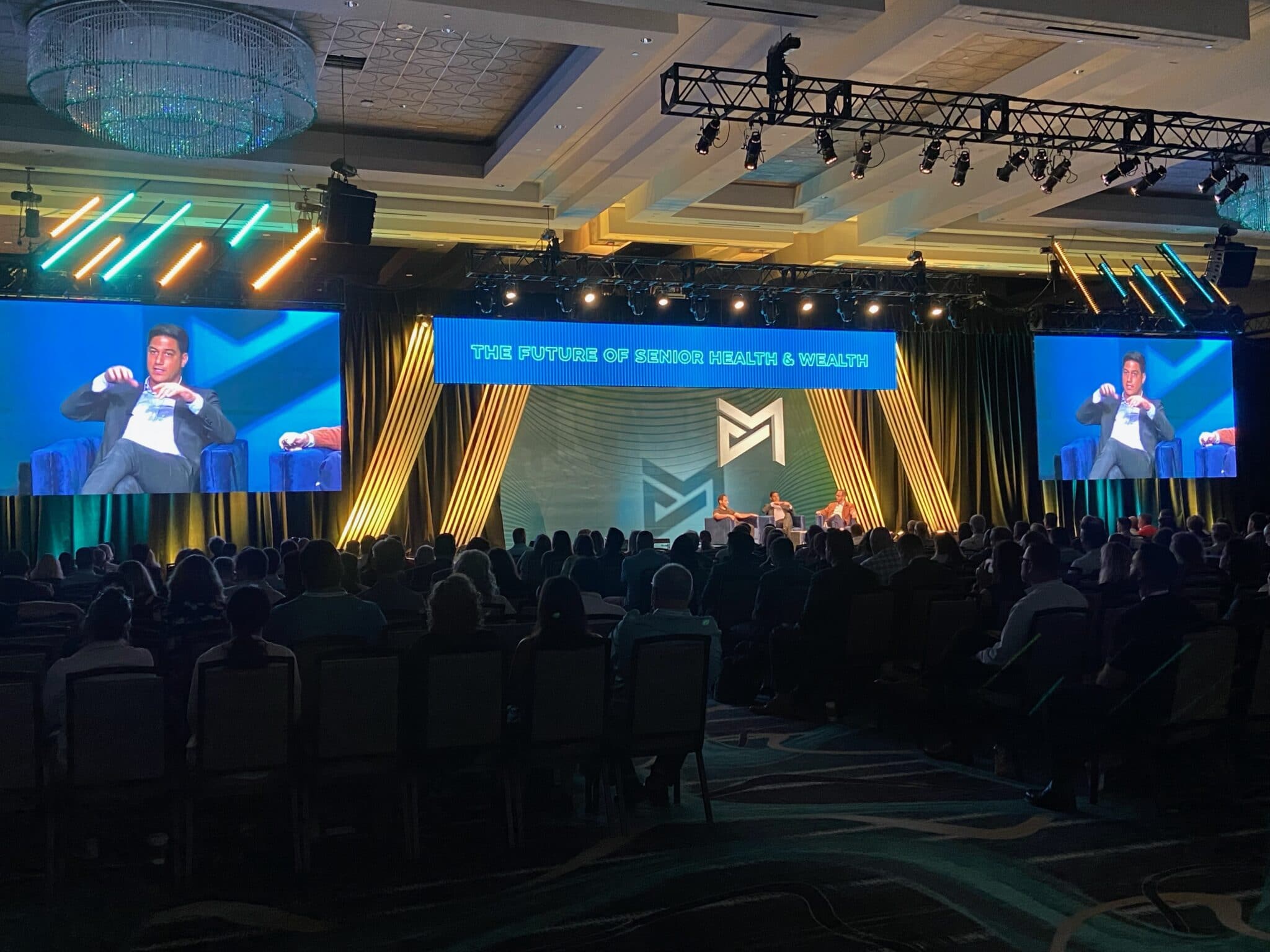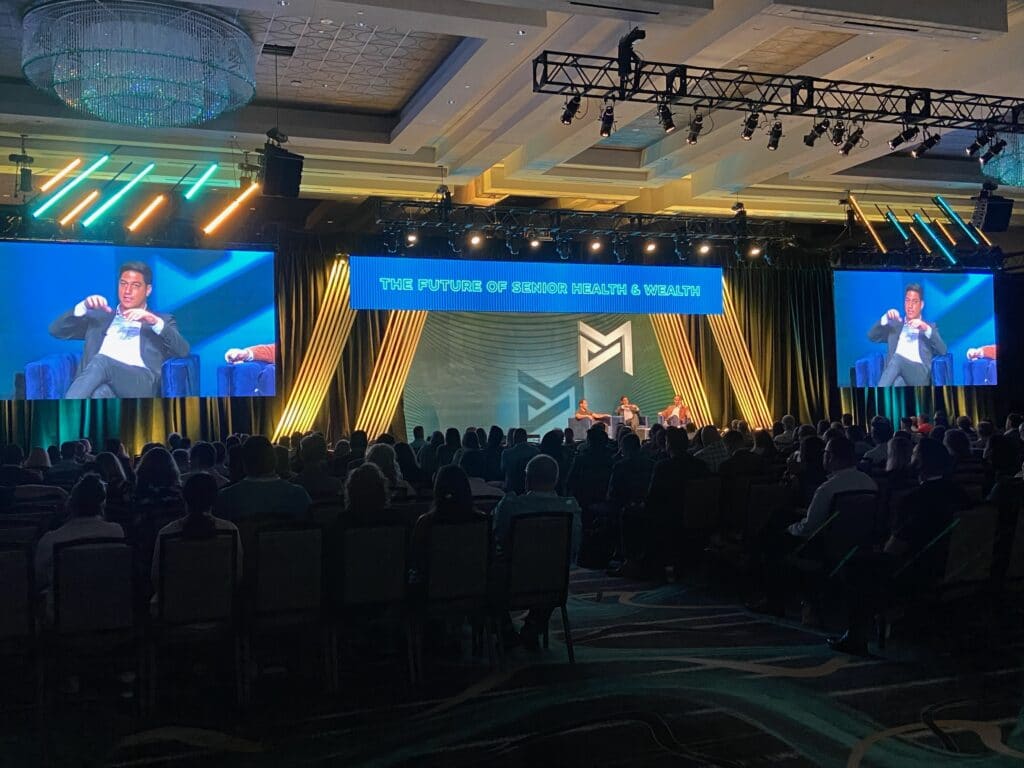 Still, the need for digital transformation is real.
"An online presence as a front door is a big piece of the future, a tech-enabled producer experience," said Sabharwal. "But the approach needs to be the best of both worlds, automated platforms with auto filled text is more important than ever, but [a Medicare participant] navigating the plethora of options needs a real partner."
Trusted advice an enduring key of insurance business
The heart of the fireside chat was simple, "How will the role of the producer evolve in the next 10 years?"
Duel's company acts as a broker to help Medicare recipients select Advantage or Supplement plans as well as providing ongoing service such as follow-ups with plan members, helping them access coverage, and performing home visits. His perspective was largely shaped by the idea that insurance agents represent the frontline of reducing plan churn.
He opined based on what his company has seen that the future decade of producer evolution will be largely driven by retention, and producers will take a more active role in service and plan engagement.
"We tried a lot of things on an agent and post sale experience by extending the agent's role in the post-sale… in engaging consumers with the plan, which drove significant lifts in retention," said Duel. "I think over time agents will take a more active role in care connectivity beyond selecting a plan to real engagement."
As DiCicco pointed, the current market mostly lacks a producer incentive in this arena – other than commissions tied to retention, there is little to push producers to help members make doctor's appointments or engage in more holistic care. In fact, there are obstacles such as HIPPA that pose a real barrier to insurance producers taking a heavier hand in healthcare decisionmaking for their clients.
Still, Duel said, there is a play for technology that can help clients and producers alike in overcoming these challenges to provide a more comprehensive health + care approach.
"It's still nascent but I think carriers incentivizing these real services is evolving," he said, speaking to rising churn as driving higher per-member acquisition costs and decreasing member lifetime values. One point, Duel said, was that Medicare insurance companies helping their members stay healthy is a huge savings point, but becomes less achievable with churn.
Sabharwal's startup, AgentSync (it's us, we're AgentSync!), isn't specific to Medicare – although we have Medicare-specific customers – but many industry trends equally apply to the Medicare space.
"We have a unique vantage point because we sit in the middle of distribution," said Sabharwal. "And to [Duel's] point, the lifetime value of a member used to be more lucrative, but the industry cuts that pie thinner when companies try to get more people to switch. That erodes the lifetime value of a member very quickly, so investing in not just distribution but also in the full lifecycle of a member will be the make or break for winners and losers in this part of the industry."
The industry, he said, is going to have to dig in for a long game, with producers increasingly becoming stewards of data.
"I think we're going to see some really interesting shifts over the next 10 years," said Sabharwal. "Unprecedented cohorts of agents are going to retire, and as those producers move their books of business, the average agent age is going to slide down. Similarly, Gen X is about to be the consumer cohort in this area … using web-based tools will go from an area of hesitation to one of demand."
Sabharwal's prediction was that, while he maintained that producers must be a fixed part of the Medicare-buying process, having a robust tech stack would be non-negotiable in the next decade.
"Producers will need to be great people enabled by great tools to deliver amazing customer service," he said. "[Medicare carriers and distributors] will need to maximize the time producers can spend with consumers."
Insurtech valuations and trends
Before closing, DiCicco ventured some questions about venture capital and the current public market values of prominent insurtechs, which had high initial public offerings only to see significant backslides in recent months.
Sabharwal and Duel both offered that high IPOs followed by steep drops likely reflect a misunderstanding of public markets and Wall Street about the basic foundational model of insurance businesses. DiCicco agreed, saying public markets often don't understand that premium collections aren't the same as profits.
"VC is getting dry in insurtech, and we're going to see an elevated due diligence on your units of profit," said Duel. "The bust hurts everyone on the industry in some sense. … Having positive unit economics is the cure."
"Some companies are great companies that are doing really well, but you can't judge the success of a company based on the public valuation," said Sabharwal. "Unfortunately, great companies are going to get punched in the face until the market corrects itself."
Sabharwal maintained that, despite public market flux, the future of insurtech looks bullish.
"As a business, starting out we could use a lot of infrastructure technology in our business that doesn't exist in insurance," he said. "Right now we're basically digitizing paper processes, and that has been the first wave of insurtech, but the second wave will be starting to transform those tools and commoditize core processes as real infrastructure. The next wave will be a lot more interesting because it'll be driven by innovation and transformation."
If you're interested in engaging with Sabharwal's vision and riding that wave of digital infrastructure transformation, see what AgentSync can do for you.
TOPICS
Compliance Reporting and Data
Disclaimer - AgentSync does not warrant to the completeness or accuracy of the information provided in this blog. You are responsible for ensuring the accuracy and totality of all representations, assumptions, information and data provided by AgentSync to you in this blog. The information in this blog should not be construed as legal, financial, or other professional advice, and AgentSync is not responsible for any harm you sustain by relying on the information provided herein. You acknowledge and agree that the use of this information is at your own risk. You should always consult with the applicable state and federal regulatory authority to confirm the accuracy of any of the information provided in this blog.