 Three Reasons Insurance Carriers Should Build Their Own Producer Compliance Management System
Many insurance carriers deliberate over whether to build their own proprietary system for producer licensing and compliance management, or whether to buy an existing solution. Here are three reasons you should consider building your own. We're not promising they're good reasons though! And, if you're not convinced, there's always AgentSync.
Should we build our own insurance compliance management system?
Build versus buy: it's an age-old question regardless of your industry or use case. In the past, we've provided a few compelling reasons to consider not doing it yourself when it comes to your insurance licensing and compliance management solution. But we still regularly encounter insurance carriers that have, are, or are planning to DIY. So, for all of you wondering what the right answer to your insurance producer licensing challenge is, here are some reasons you should consider building your own system in-house instead of partnering with an established compliance expert.
Insurance carriers are known for being able to find the best tech talent
Insurance talent crisis? What insurance talent crisis? Forget about the fact that around 50 percent of the entire insurance industry workforce is, or soon will be, retiring. The insurance industry has no trouble attracting smart, diverse, tech-savvy employees, right? And that's a good thing because you're going to need them!
We can speak from firsthand experience when we say it will take years and a large team of software engineers (along with project managers, user interface designers, and many others) to build a workable licensing and compliance management system.
Don't forget that when you hire all those technical employees, you'll need additional administrative and support staff in your HR department, among other ancillary costs (think: benefits, office space, hardware and software). It's also a good thing that these super-smart techies you'll be hiring know insurance industry regulatory compliance and its complex nuances inside and out. Because that's a prerequisite for building a system that can keep up with your compliance needs and not risk anything falling through the cracks.
Speaking of risk…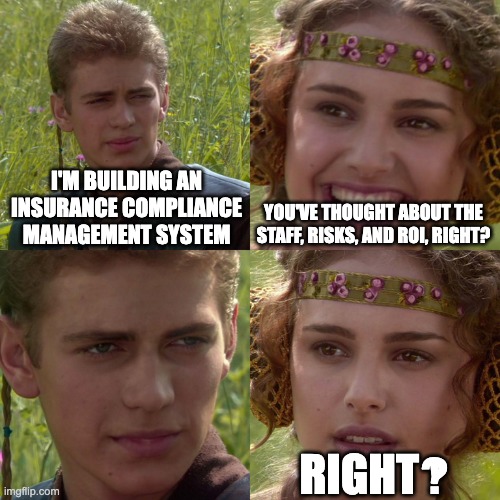 Insurance companies love taking on risks they don't have to
When you build your own internal system for licensing and compliance management, it is your circus and they are your monkeys! Unlike compliance partners such as AgentSync that will go as far as to assume compliance risk on your behalf, any human or technical errors that happen in your system are entirely yours to deal with.
But that's OK! We know insurance carriers like risk. If "like" is too strong of a word, we can at least say insurance carriers have reasons for accepting compliance risk even while their main goal is to mitigate risks in all other areas.
If you've been considering building your own system, then obviously you're thinking along the right track of ways to automate producer compliance and reduce risk.
Compliance management software has a long shelf life: Build it now and it'll last forever
An insurance carrier looking to build its own bespoke compliance management system may perform a cost-benefit analysis and determine that the upfront cost of investing in software development is well worth the ROI over a number of years.
When comparing a large upfront cost over the course of a few years against a smaller, but ongoing cost that may last "forever," it's easy to see how building something that is yours, and you don't have to pay to use, seems like the better option. And this is absolutely true because we all know that software built at one point in time is still excellent five, 10, or 30 years down the road with absolutely no updates or changes.
When you invest in a solution, whether it's software as a service (SaaS) or compliance as a service (CaaS), it's true you have to pay for the service on an ongoing basis. The upside to this is that the service will continue to evolve. The service provider will continue to invest in improvements, upgrades, security enhancements, new features, etc. Each year that you utilize the service, you're getting a better product than the year before–or at least you should be! And you leave the worry of updates to the service provider! Not your overworked IT department.
The truth about building your own compliance management solution
Hopefully, by this point you've realized we're being just a slight bit facetious. There are actually some real reasons why insurance carriers may decide it's in their best interest to build their own internal compliance management system. We just happen to think the reasons are based on some bad assumptions.
Any way you slice it, insurance carriers are best served by partnering with a modern tech solution with the industry expertise, technical know-how, and strong commitment to information security and continuous improvement. When you outsource a solution, you're able to free up precious time and resources you would have spent building and maintaining an internal system for work that "moves the needle" at your company.

AgentSync is one such partner that can help push that needle into overdrive. We happen to think that if you check out what we offer, you'll see there's really no good reason an insurance company should try to go it alone for compliance management.
TOPICS
Compliance Reporting and Data
Disclaimer - AgentSync does not warrant to the completeness or accuracy of the information provided in this blog. You are responsible for ensuring the accuracy and totality of all representations, assumptions, information and data provided by AgentSync to you in this blog. The information in this blog should not be construed as legal, financial, or other professional advice, and AgentSync is not responsible for any harm you sustain by relying on the information provided herein. You acknowledge and agree that the use of this information is at your own risk. You should always consult with the applicable state and federal regulatory authority to confirm the accuracy of any of the information provided in this blog.