 History of Insurance Regulation: Beyond 2020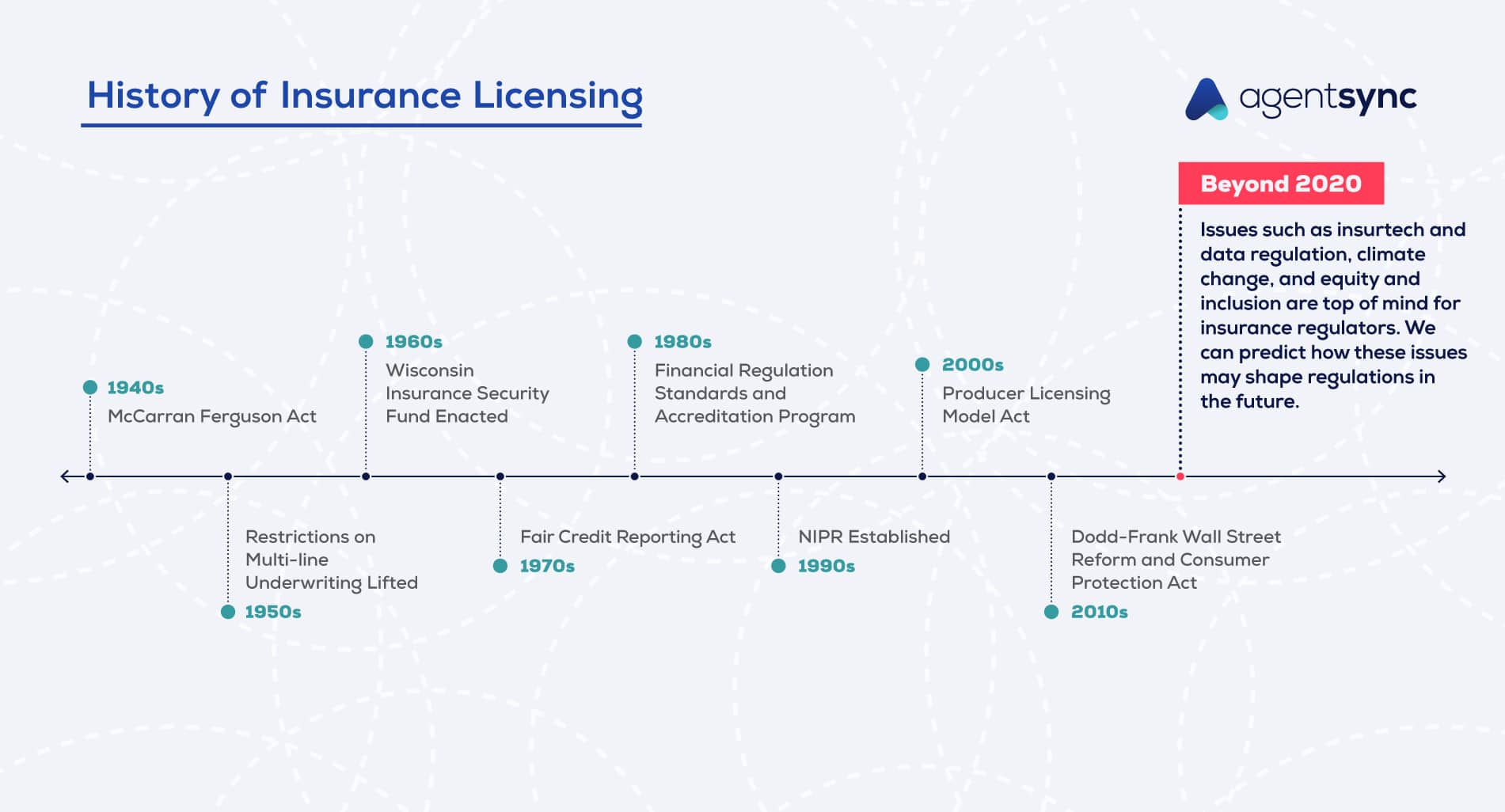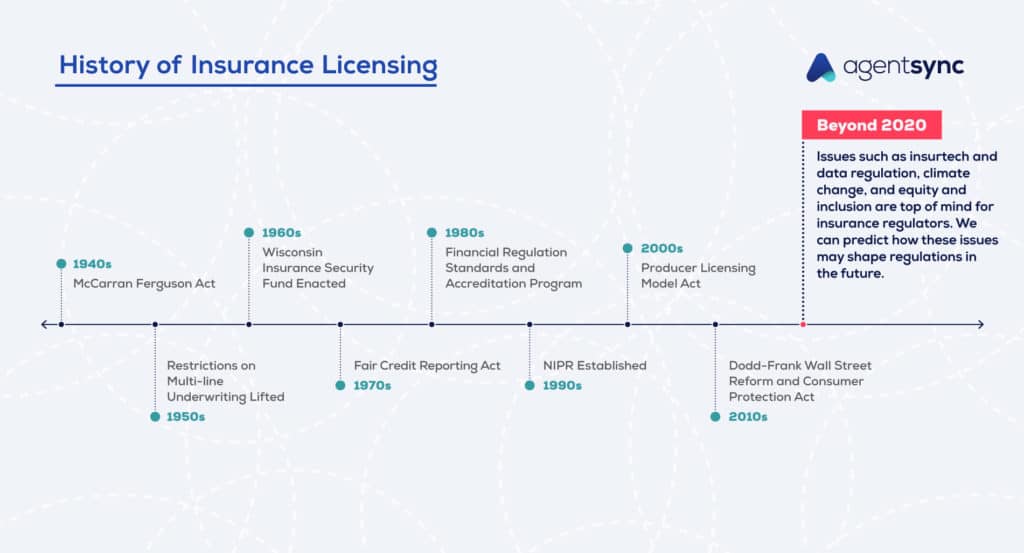 Laws, rules, and regulations in the insurance industry are nothing new. On the contrary, the insurance industry has been highly regulated as far back as the McCarran-Ferguson Act of 1945, which gave the power to regulate the insurance sector to individual states.
Each state has its own set of rules and laws regulating the insurance sector, enforced by the State Department of Insurance. Because laws differ across 50 states, the District of Columbia, and multiple U.S. territories, insurance agents, brokers, and carriers must juggle more than 50 distinct sets of rules.
As political administrations come and go and new technologies and social concerns make their mark, keeping up with regulatory fluctuations presents special challenges and unique historical circumstances. Check out our series [LINK ME] as we continue to explore, decade by decade, the U.S. insurance compliance landscape and its changes over time.
The current and future state of regulations and compliance in insurance
Insurance regulations exist to protect the American consumer and the sustainability of the insurance industry. While these protections may have been primarily focused on reducing financial risk to individual consumers in the past, the insurance industry is now responding to more existential threats. The future of insurance industry regulations may look different than the past because our future risks look quite different from our historic ones.
Insurtech and data regulations
The insurance industry gets a lot of flack for being slow to adopt new technology. However, the majority of the industry already runs on tech powered by such giants as Amazon Web Services, Salesforce, or the Google Cloud. From an independent agent with a simple website to the largest insurance companies in America, nearly everyone is using customer-facing technology and most are also powering their back office with digital tools.
This means the insurance industry, just like all others, is subject to new risks that come along with doing business in a digital world. And, with new risks come new regulations. In the U.S., the California Consumer Privacy Act (CCPA) is the largest and strictest state-level privacy protection law. For U.S. companies who do business in Europe, the General Data Protection Legislation (GDPR) fundamentally changed what information could be collected and how it could be used.
With cybercrime costing U.S. businesses and consumers over a trillion dollars in 2019, and with companies collecting and storing more personal information than ever before, we can expect regulatory changes related to privacy and data security to increase dramatically in the coming years.
Evolving insurance and compliance perspectives on climate change and social justice
If 2020 taught us anything, it is that no industry is immune to the pervasive social issues of our time. From the COVID-19 pandemic to natural disasters brought on by climate change, to social unrest and the conversation around race in America: The insurance industry will not be exempt from the repercussions.
Climate change and the insurance sector
Recent years have brought unprecedented numbers of catastrophic natural disasters, resulting in over $83 billion in losses worldwide in 2020 alone. As fires, floods, tornados, hurricanes, and earthquakes become increasingly common, the insurance industry faces new challenges.
Protecting the insured while remaining profitable enough to stay in business is a real concern. State (and possibly federal) governments will undoubtedly step in to ensure the safety of both insurance consumers and insurers. Leading the charge are the New York Department of Financial Services and the California Department of Insurance. It is not yet known what actions will be taken by other states, but it is only a matter of time before more states enact legislation related to the impact of climate change on insurance companies and policyholders.
Race, diversity, equity, and inclusion in the insurance industry
The National Association of Insurance Commissioners (NAIC) recently set up a Special Committee on Race and Insurance that is tasked with looking at the impact of current insurance industry practices on people of color and other historically disenfranchised populations.
This committee will present its findings and recommendations by the end of 2021 in order to elaborate on actions the insurance industry can take to increase diversity, equity, and inclusion within the insurance sector. It also will address policies and practices that could put people of color and other historically underrepresented groups at a disadvantage. We can expect the NAIC to continue working toward a future of greater diversity and inclusion, which could mean enacting regulatory changes to address current inequities in the system.
Regulatory changes within the insurance industry are both historic and ever-evolving. It can be more than a full-time job to keep on top of which ones apply to your organization and ensure full compliance with each one.
This is just one of several articles we have on the history of insurance regulation. For more fun facts and historical whodunits, check out the rest of the articles in our History of Insurance Regulation series.
To keep up with the regulatory changes that are happening now, see how AgentSync can help.
Disclaimer - AgentSync does not warrant to the completeness or accuracy of the information provided in this blog. You are responsible for ensuring the accuracy and totality of all representations, assumptions, information and data provided by AgentSync to you in this blog. The information in this blog should not be construed as legal, financial, or other professional advice, and AgentSync is not responsible for any harm you sustain by relying on the information provided herein. You acknowledge and agree that the use of this information is at your own risk. You should always consult with the applicable state and federal regulatory authority to confirm the accuracy of any of the information provided in this blog.