 Comparing Insurance Producer Licensing Compliance Management Software
Compliance is not most businesses' idea of a good time – this is nearly universal to every industry. But as software makes it easier than ever to stay in compliance, companies are going to face more pressure to enforce producer license compliance proactively.
With that said, not all licensing compliance software is created equal. In an area of the industry that's so niche, it's not just a matter of having a compliance management software and calling it a day. Is your software service provider knowledgeable about the insurance space and able to parse the nuances of insurance regulation across states? Does your product automatically fold in regulatory updates from state legislative, regulatory, and judicial bodies?
Beyond that, do you have insight into your own data, or is your software just as much of a black box as your manual processes were? Different products handle reporting to varying degrees of usefulness. We've encountered some companies that spend large budgets on insurance compliance software just to continue using spreadsheets to track their internal metrics.
And, further, how intuitive are the tools you have? Usability can make the difference between a software that's worth the expense and becomes a reliable tool, saving your team hours of manual data entry, and a product that your company shells out for and spends hours implementing only to be ignored and unused by your teams.
What are the criteria for assessing an insurance compliance management solution?
Personalized producer portal
Why it matters: Producers are the basic unit of management in insurance, and without a producer portal, your compliance management practices will still boil down to someone in operations calling a producer's office repeatedly to fill in simple information that the producer should have emailed over weeks ago just to finish onboarding.
Easy integrations
Why they matter: Tools that integrate across your tech stack can apply your compliance practices across platforms and end repeat manual data entry for real. Instead of having to switch systems to check whether a producer is licensed for their commission, an integrated system can verify that – no human attention needed – before the check is cut. Unlocking your data and working in a single system as much as possible seem like next-level wants until you've experienced a seamless workflow in real life.
Robust custom reporting
Why it matters: Why work with a compliance system that can't expose your gaps and highlight your needs? If you don't know where the weak spots are in your compliance management processes, how can you iterate and get better? Know what your timelines look like, which producers are missing licenses, and even which of your downstream distribution management partners are "problem children" before they become a real problem.
Daily NIPR synchronization
Why it matters: If your data syncs to NIPR only periodically – monthly, quarterly, or less – then you have some serious gaps in your compliance. A daily sync is the only way to know your data is up-to-date and accurate, and to end the possibility of manual data entry errors. And having a two-way sync, where you're able to feed NIPR changes from your producers both at an organizational and individual level, can ensure you're working off a single source of truth as opposed to having to rectify conflicting data from multiple sources.
Auto emails
Why they matter: Being able to generate batches of emails in the system based on things like renewal deadlines or CE reminders is an immediate relief for your employees. Instead of one person spending 4 hours at the beginning of every month drafting and emailing producers, program your software to trigger auto generated emails for simple reminders and data collection.
Highly configurable
Why it matters: Because your organization is unique…just like every other one! Being highly configurable is essential in the evolving software landscape, ensuring your tech stack levels up with each improvement to the underlying tech architecture, and making it easier to implement new changes and product capabilities as they become available. Configurability touches on speed and security.
Transparent pricing
Why it matters: Knowing what your cost will be up front is what makes a product attractive to your finance team. Learning after the fact that your solution nickels and dimes you for every report you run, charging you every time you want insight into your data, is not ideal. Consider asking, will you'll have to pay for each report? If your product doesn't automatically sync to NIPR, will you have to pay for each data synchronization? Will you have to pay per producer, or just per sync? Hidden costs can turn what looks like a good deal into a money pit, and one you're stuck in because you've already gone through the sales and implementation process at your organization.
Compliance expertise
Why it matters: Expertise makes the difference between having a one-trick-pony tool and having real solutions in hand. Some producer management softwares are primarily concerned with technology – functionality is determined by what developers can come up with and driven by engineering imaginations. Others have robust compliance knowledge, but software comes up clunky and limited. Ask about the marriage of the two – compliance expertise with software design. Not all states allow for digital reporting and processes, but you'll still want a system that alerts you to the things you need for those jurisdictions. The best functionality comes from compliance minds working with competent developers who can successfully translate relevant regulatory concerns into a user-friendly system.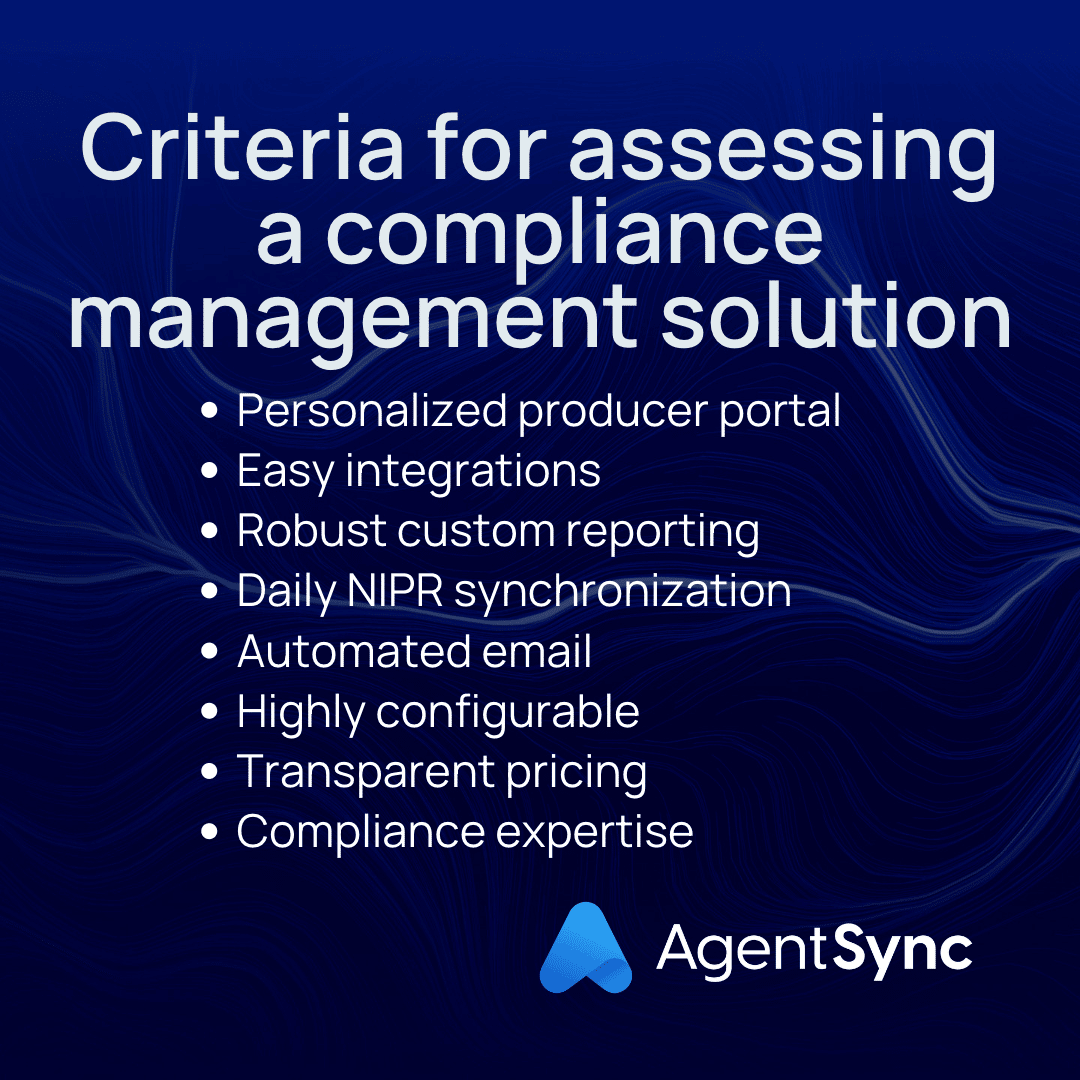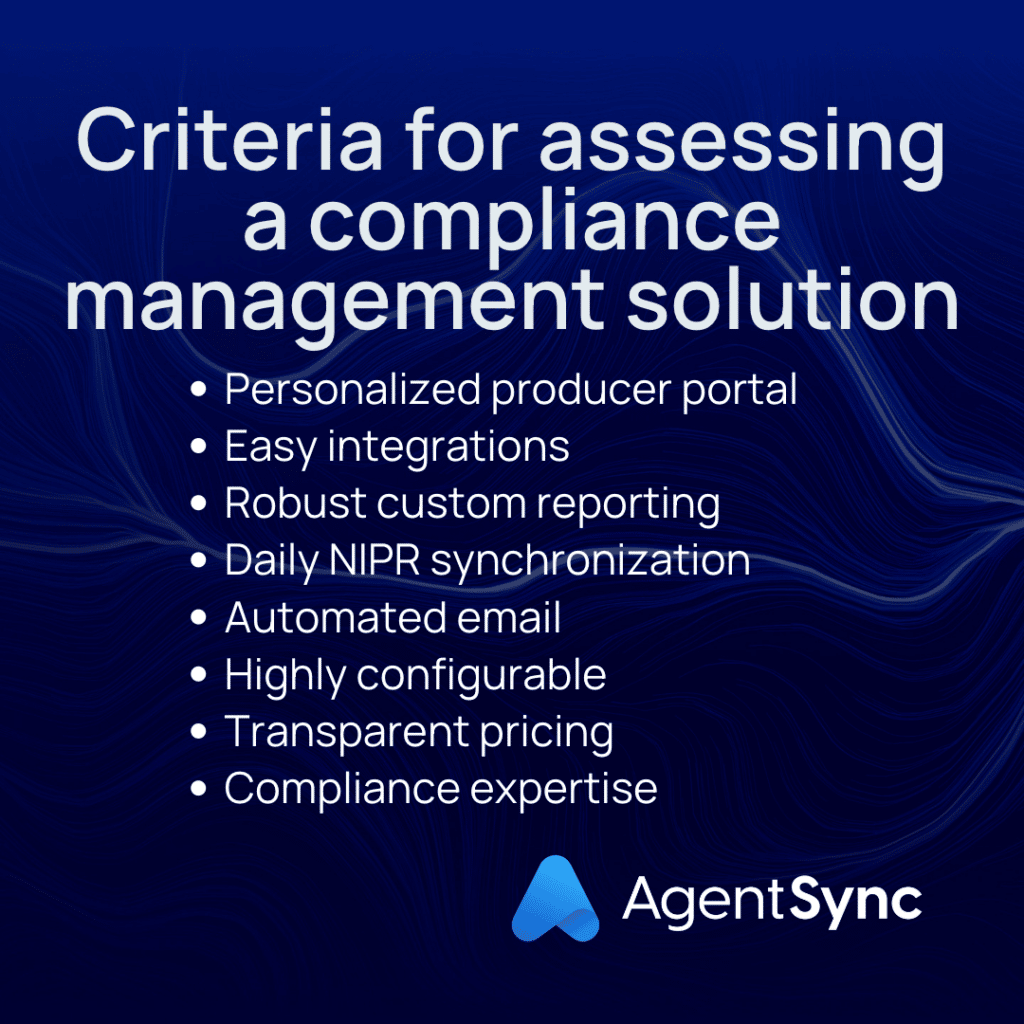 Making the case for AgentSync in your producer compliance management process
Surely, some will argue that our criteria for an insurance producer management software are cherry-picked, and they're probably right. From day one, our team decided that an automatic, simple-to-use solution should reflect both user needs of the industry and changing regulatory compliance at the state level. So, if we're picking cherries, those are the cherries that matter most to us.
Instead of nickel-and-diming customers through reports and data validation, AgentSync charges for the initial cost of a Manage implementation and then tiered monthly charges are based on the number of producers under management. Beyond that, our services – including each customer's dedicated customer success team – are built into our pricing. No hidden costs. No surprise fees.
Our team works diligently to keep our customers up-to-date with regular communications about changes to NIPR procedures as they relate to our product. Not to mention our informative blog with ever-increasing insurance content and our compliance library (you don't even have to be a customer to check those out.) 
AgentSync provides more than just a set of tools (although we'll remind you they're very robust, and incredibly valuable tools) – we provide real compliance solutions.
If you're ready to see how AgentSync stacks up and why it matters to you, check out what we have to offer.
Disclaimer - AgentSync does not warrant to the completeness or accuracy of the information provided in this blog. You are responsible for ensuring the accuracy and totality of all representations, assumptions, information and data provided by AgentSync to you in this blog. The information in this blog should not be construed as legal, financial, or other professional advice, and AgentSync is not responsible for any harm you sustain by relying on the information provided herein. You acknowledge and agree that the use of this information is at your own risk. You should always consult with the applicable state and federal regulatory authority to confirm the accuracy of any of the information provided in this blog.