 From People to Perks: Here's What Our Secret Agents are Thankful For This Year
From our first employee (technically, a cat) to our 200th employee, and beyond – we've always said it's our people who make us great. AgentSync's leadership is thankful for each and every one of our "Secret Agents," not just once a year, but every day.
While we try to remain humble – after all, we're merely a collection of insurance nerds who're obsessed with the finer points of state-by-state insurance compliance – we thought it appropriate on a day of giving thanks to share how our team feels.
We asked our team what they're most grateful for at AgentSync, and wow, did we get some responses! With too many answers to list, we've grouped the most common into a few thematic buckets. From our leaders to our teammates to our benefits, here's what nearly 50 Secret Agents had to say!
Thankful for AgentSync's leadership team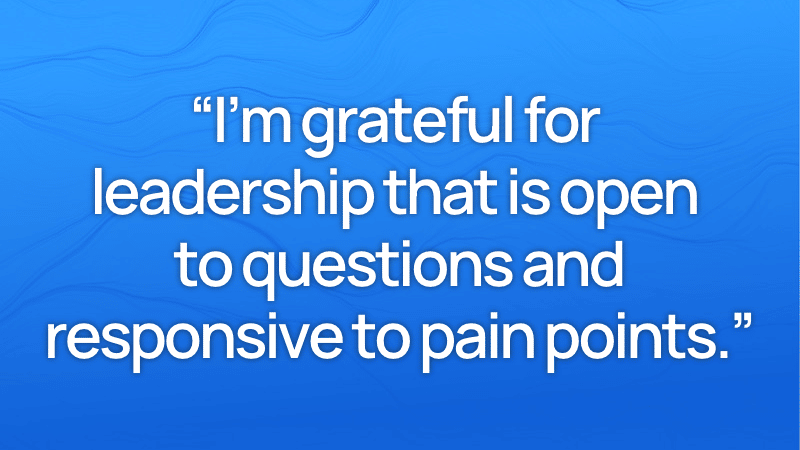 Our Co-Founders Jenn Knight and Niji Sabharwal have set the tone for leadership from day one. So, it's no surprise that a large number of employees mentioned our leadership team in their list of things they're thankful for.
"Our leaders are authentic and lead by example."
"I'm grateful for leadership that is open to questions and responsive to pain points."
"I am beyond thankful for my managers at AgentSync. Never have I ever felt so supported and so cared for."
"I really appreciate our transparent leadership and opportunities to grow."
Thankful for AgentSync's people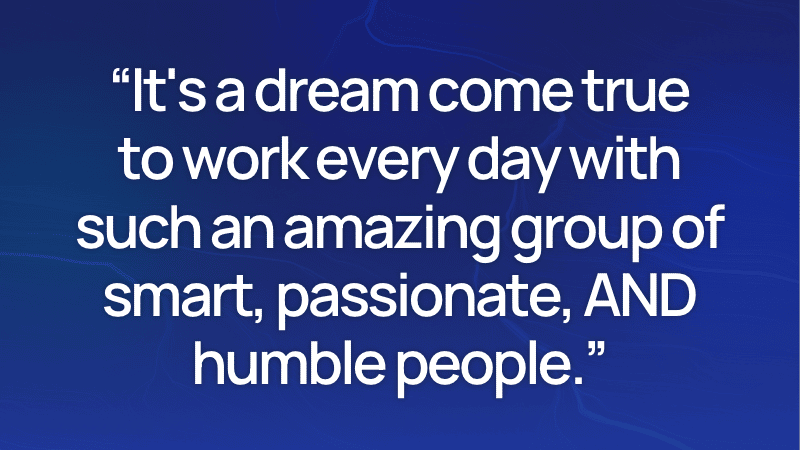 When you ask folks what their favorite part about working in insurance is, one common answer is "the people." AgentSync is no different. Our people recognize each other as invaluable to our collective success and incredible employee experience.
"The people. We row together. Literally (the dragon boat event was fantastic!). But also in everything else we do. We encourage each other and every person contributes."
"The camaraderie I experience while facing the company's challenges and working toward goals."
"The people! It's a dream come true to work every day with such an amazing group of smart, passionate, AND humble people."
"I'm thankful for the humans I work with."
"We make space to connect with each other as people. We recognize that we are more than our work and our outputs."
"An opportunity to work with brilliant and passionate people!"
"I'm thankful for the people! Being able to work in a psychologically safe environment, where my thoughts are encouraged and not 'tolerated.' AgentSync makes coming to work such a pleasure!"
"I am thankful for my fellow Secret Agents. We've assembled a smart, conscientious group that tackles big problems and delights our customers in the process."
Thankful for AgentSync's incredible culture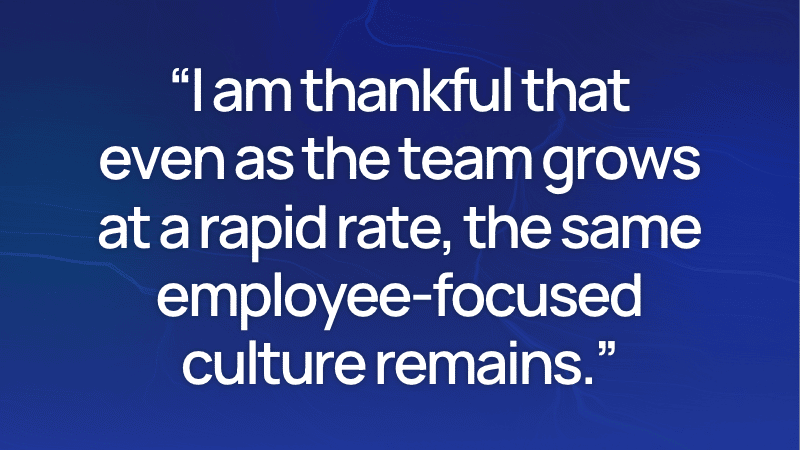 Our culture is made up of our leaders, our people, our shared values, and collective priorities. It's intangible, but everyone knows it when they see it. Here are a few ways our team expressed gratitude for our incredible culture.
"For the first time in my career I truly feel seen, heard, and valued as a complete human being. I am not just my job title or how useful I am in a given situation, and this is so empowering on so many levels."
"I truly appreciate the respect shown across the organization for expertise. It shows a tremendous amount of trust to have your leadership team say, 'You're the expert here. Run with it.' It's more rare in business than I think any of us would like, so to see it on full display at AgentSync is not only refreshing, but motivating."
"Policies, practices, and a culture that truly prioritizes the wellbeing of employees."
"I am thankful that even as the team grows at a rapid rate, the same employee-focused culture remains."
"I love that we can take advantage of remote work, and have autonomy, job ownership, and transparency."
"A supportive workplace that cares about my individual needs as an employee."
"The culture here is refreshing. We are all passionate about what we do and we get to speak our minds about it."
"I am so thankful for AgentSync's commitments to diversity, learning, and growth."
Thankful for amazing employee benefits at AgentSync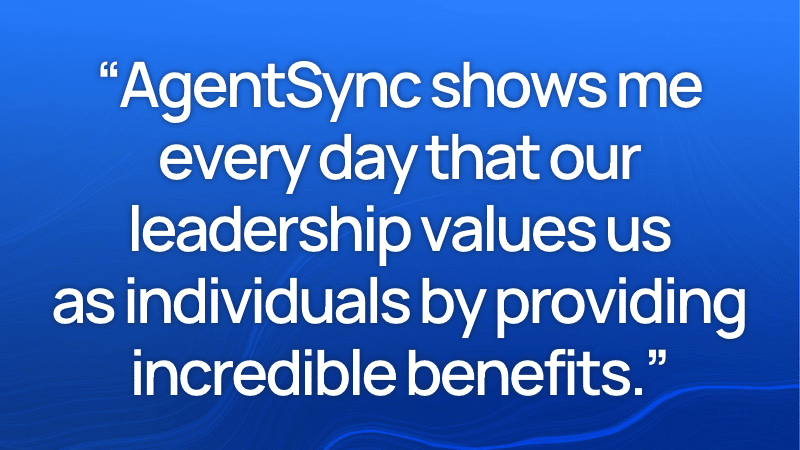 Let's be honest: Employee benefits are a large part of anyone's decision making when it comes to choosing a company. Without a comprehensive benefits package that keeps employees and their families well (physically, emotionally, and financially), no one can be expected to perform their best at work. Our benefits ranked near the top of the list when we asked everyone what they were most thankful for at AgentSync.
"I've always loved the compliance-forward drive of AgentSync, but it's hard to top paying zero dollars in premium for health care for my family as something I'm grateful for."
"I'm super grateful for how much AgentSync cares about the employees. From the level of transparency the leadership team has around decisions they make to the benefits we have. I've never worked anywhere that legitimately cares about its people the way AgentSync does."
"It's hard to pick just one thing to be grateful for, however, AgentSync shows me every day that our leadership values us as individuals by providing incredible benefits."
"I am thankful for all the wonderful things the People and Talent team does to grow AgentSync."
"I'm most grateful for the ability to truly have work-life balance."
"Awesome benefits and awesome people!"
If you're reading this and thinking you'd like to be part of an organization whose employees feel this way, we've got great news! We're always looking for new Secret Agents across a number of teams and locations, with plenty of fully-remote opportunities.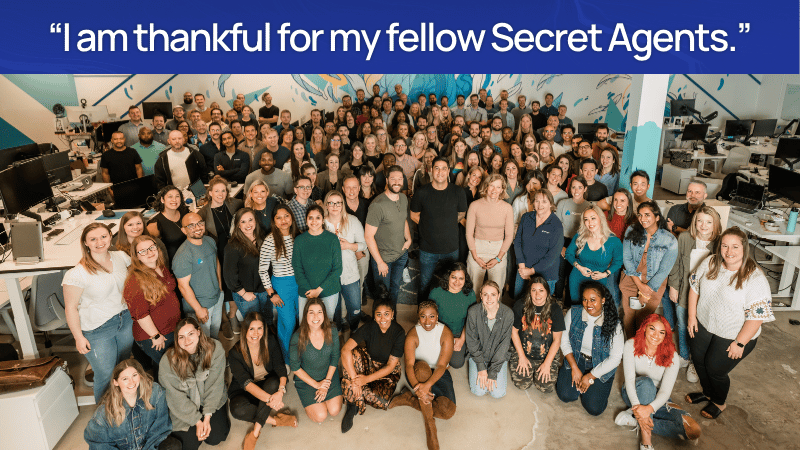 Learn more about our team, culture, values, and benefits – plus a current list of open positions – here.
Disclaimer - AgentSync does not warrant to the completeness or accuracy of the information provided in this blog. You are responsible for ensuring the accuracy and totality of all representations, assumptions, information and data provided by AgentSync to you in this blog. The information in this blog should not be construed as legal, financial, or other professional advice, and AgentSync is not responsible for any harm you sustain by relying on the information provided herein. You acknowledge and agree that the use of this information is at your own risk. You should always consult with the applicable state and federal regulatory authority to confirm the accuracy of any of the information provided in this blog.