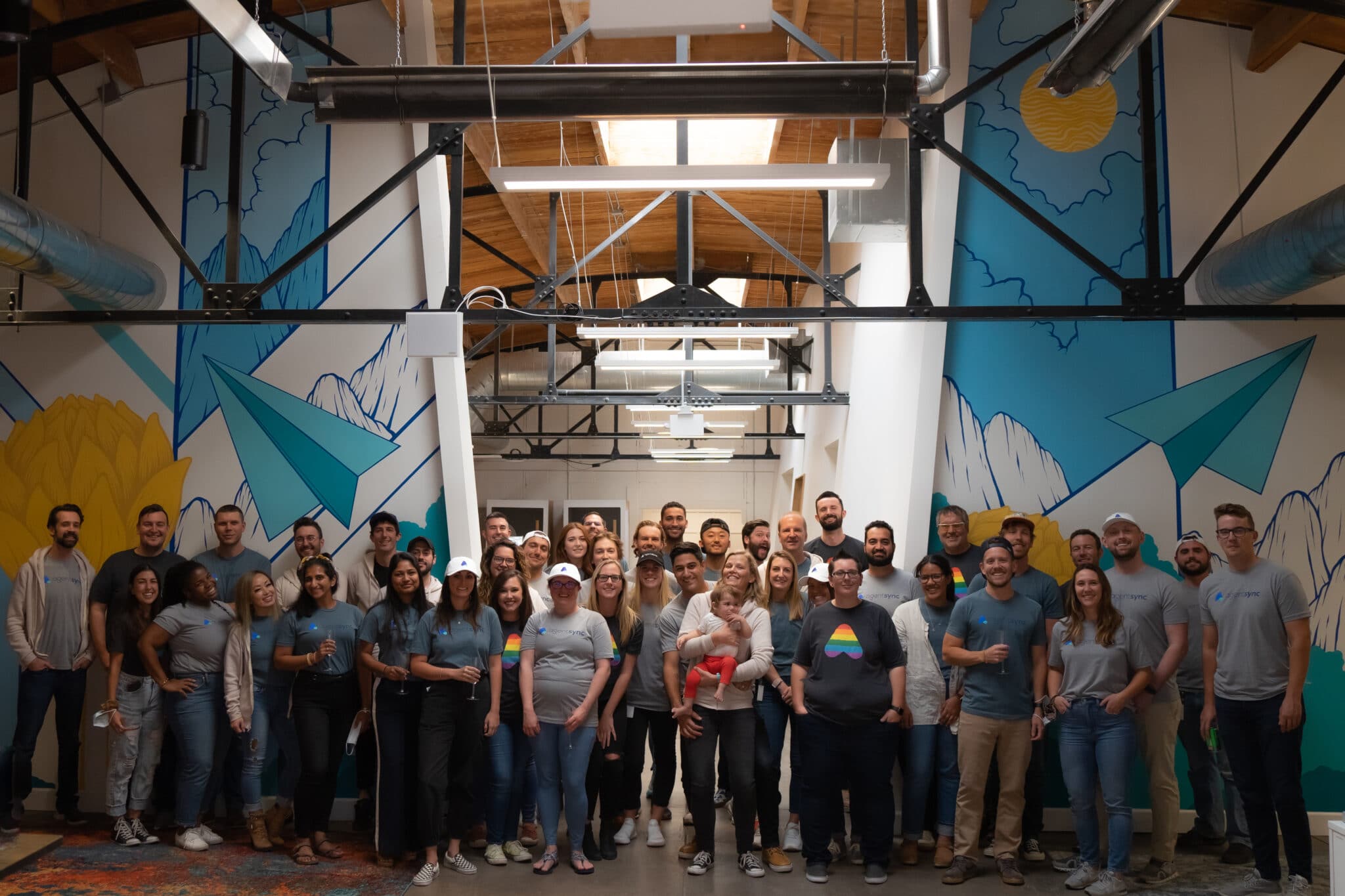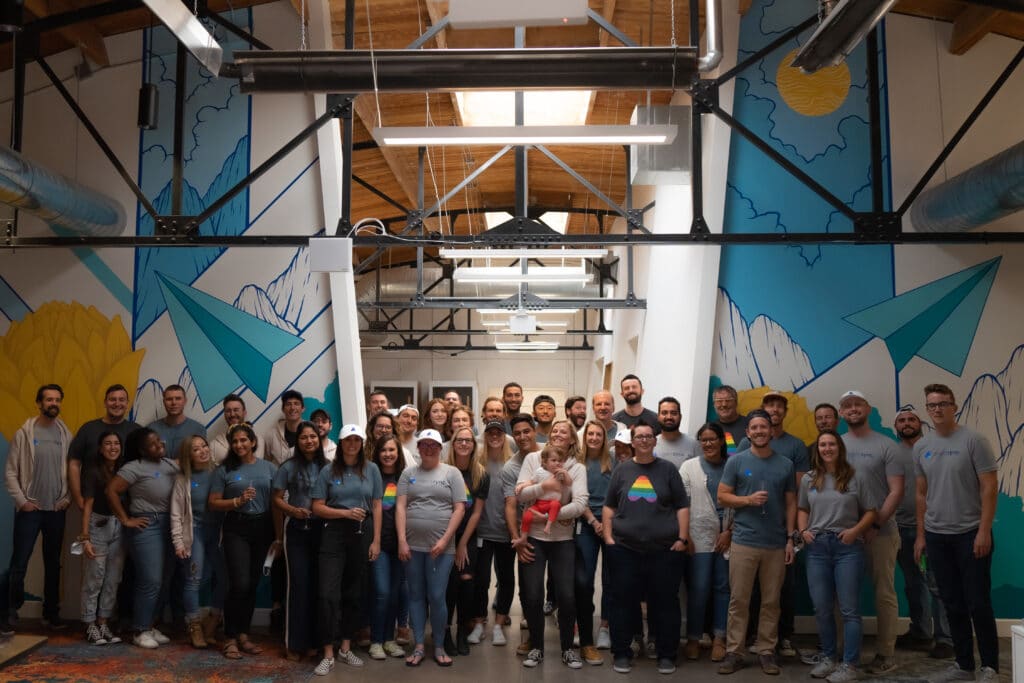 November is an excellent month to look around, take stock, and count one's blessings, and that's doubly true for us at AgentSync as we celebrate another turn around the sun: This year, we're turning three.
This third year has been one of momentum. While we're usually obsessed with what's ahead, what better excuse than a birthday to look back and reflect on where we've been? Dust off those party hats and pass the cake, and take a walk with us down memory lane.
Year 1: Startup mode
Niji Sabharwal, co-founder and CEO, had a front-row seat at Zenefits to the difficulty of maintaining insurance producer licenses and ensuring compliance. Jenn Knight, co-founder and CTO, had a background in product development at some of the companies that have become household names in business technology (LinkedIn, Dropbox, Stripe). They had worked together before and saw the opportunity to make their personal partnership a professional one, as well.
"There was this moment when we were talking about it, and we said 'If not now, when?'" Jenn said. "This was the culmination of all these things, we knew from experience we could work together to build things, and we didn't have kids, we didn't have a mortgage, and here was this obvious problem that needed a solution."
The first year was full start-up mode, complete with late nights in their San Francisco apartment tinkering with tools and combing state license regulation irregularities. Pairing programming with insurance know-how, the two built AgentSync's core off of a Salesforce backbone and integration with the National Insurance Producer Registry.
Year 2: Building blocks
Nearly a whole year later, we took our first steps, hiring Sandy Allen to join the team from Kansas. Sandy's thirty years of insurance industry perspective were critical for building functionality (seriously, if you work in insurance and you don't have a Sandy, you need one).
"After seeing the Manage product, I knew how much it would change compliance management in the insurance industry and I wanted, needed, to be part of building it," said Allen, now the solutions architect in the company's insurance vertical. "I believed in Niji and Jenn's vision, to build it in a way that would resonate with those managing compliance."
As the pandemic unfolded in March 2020, the company had hired its sixth employee. Fortunately, AgentSync was a digital company in a resilient industry. While traditional insurance companies grappled with physical limitations, demand for AgentSync and our cloud-based framework only increased. Enabling users to verify agent licenses regardless of business hours, out-of-offices, and COVID surges put a special focus on the industry's long-standing struggles to maintain licensing compliance.
Our success has many sources of credit – we'd be remiss to not thank the companies that have held with us in round after round of beta testing and data validation, something our development team keeps at the forefront.
"We truly do have great customers as partners," said Knight. "Having people who are willing to work with you to solve their problems and who share your enthusiasm has been key."
"Jumping aboard this speed boat has been an adventure," said Betany Riley, AgentSync senior program manager, and an early hire. "In the early days, there were four of us on a conference call frantically asking as many questions of our various partners as we could and then going off to build more logic into our product."
In July 2020, we officially took up residence in Denver in an office near Denver Central Market, and as soon as we overflowed it, we extended to a second location, so close that rooftop barbecues and throwing office supplies across an alleyway were the delightful norm.
For the first year and some change, AgentSync's budget was maintained through Niji and Jenn's, something Niji calls "super nerve-wracking." We all breathed a sigh of relief in the back half of 2020 when seed funding gave the team an $11.1 million cushion.
"Our investors expanded the team, because something like 98 percent of them are founders themselves," Niji said. "Having a network of people with experience who have sat where we're sitting and answer questions over a late-night phone call about how they handle situations is invaluable."
Year Three: Take off
The third year has certainly been one of growth. We started strong, with a Series A funding round in March 2021 that added $25 million to the runway.
Our team is now 96-strong. Our hybrid, flexible work policy prioritizes the safety and health of our team while also giving us the opportunity to throw a banger of a birthday party. And, while we're on a total hiring blitz (join our team!), we're also bought in on the idea that diversity, equity, and inclusion make for a stronger workplace.
"Part of moving to Denver was about encouraging a diversity of background and diversity of thought. In San Francisco, a lot of the candidate pool had the same experiences and had worked at all the same places, but we're trying to make spaces for people to question how we're doing things," said Jenn. "It's about diversity in all of the ways you might conventionally recognize it as far as race, ethnicity, gender, sexual identity, but also about encouraging a diversity of thought, whether that's different educational backgrounds, different cultural perspectives, or neurodiversity."
We are also committed to loving on our customers. Their success is our success (literally, folks). Some of our clients have had massive expansions in the last year, with no end in sight, and we like to think we've enabled them to grow like crazy beans and stay compliant.
As another mark of how the company is all grown up, we compiled our SOC II Type I audit, validating the company's security practices (in the insurtech world, this is champagne and jazz hands, baby).
"It's been amazing to watch leadership's focus on the customers and our employees never take a backseat to revenue or profits," said Alex Leinweber, head of customer operations, who joined the company in its second year. "That's been a wonderful constant working here the last two years, from six employees to almost 100, and with our expanding products."
To Alex's point, a recap of Year Three also wouldn't be complete for us compliance nerds without a look at our products.
Manage: The core software that makes insurance producer licensing automatic, this one is our first, our pièce de résistance, and it's ever-expanding as the team builds new functionality and through additional lines of authority and lines of business into the first-of-its-kind daily sync with NIPR.
AutoPilot: Just launched in November, AutoPilot puts experts behind our best-in-class tech to streamline producer licensing compliance. Instead of hiring an ever-expanded staff, this allows customers who prioritize growth to outsource their onboarding and license verification process entirely.
Scorecard: Layered on top of the Manage product, Scorecard allows users to leverage at-a-glance data to see compliance gaps and make intelligent decisions about producer management.
Not to give away too much, but we also made our first acquisition this year, Finvera. So, in case you got distracted by our nostalgia here, SPOILERS: we have a pretty stacked roadmap ahead, too.
All this growth made it difficult to cram the expanded team into two offices. Midway through 2021, AgentSync moved into yet another office space (larger, this time, with more rooms and higher ceilings) in RiNo. With room to house most of the on-site team, the RiNo office features murals from local artist, Rumtum. About 25 percent of the AgentSync team remains remote, spread across California (shoutout to the four people in the San Francisco office), Kansas, New York, and other states. While they largely enjoy other offsite perks like a zero-minute commute and the ability to blame missed meetings on wifi trouble, visiting the Denver office a few times a year has its own charm.
"Due to the pandemic, I wasn't able to meet the team face-to-face until July 2021. Until then, in my mind, we were still that small staff of five, trying to solve the world's insurance problems," said Betany, who typically works remotely from Kansas. "Walking into HQ, in that moment, I realized the time we have put in and the milestones we've accomplished had built a company large enough to fill all the desks I was looking at. It's a humbling experience, and I can't wait to see where we are in the next year."
Us, too, Betany. Same.