Spook season is upon us and you know what that means: vampires, werewolves, and demons galore.
Short of a Buffy at our side, we're seemingly doomed to the will of those nighttime creepy crawlies. But have no fear, insurance is here!
Is insurance The Chosen One?
The best "insurance policy" against hell beasts may be a blonde-haired, blue-eyed vampire slayer by your side. But can Buffy pay you cash?
With Spooksafe, insurance that protects against paranormal and supernatural threats, you can ensure you're covered to deal with the consequences of those unwelcome hauntings.
Is your werewolf bite getting infected?
Did the poltergeist break your lampshade?
Did the demon cause you back pain?
Spooksafe has you covered. Similar to a life and disability or liability policy, Spooksafe covers the costs that may arise from haunting encounters, including:
"Death caused by the paranormal
Injury caused by the paranormal
Damage to personal property caused by the paranormal
Attacks by vampires and/or werewolves"
*These hypothetical examples do not guarantee payment or verify eligibility. Payment of spooky benefits are subject to all terms, conditions, limitations, and exclusions of the member's contract at time of service.
What the devil is this nonsense?
Before you non-believers categorize this as fantasy, Spooksafe is apparently real, and specialty insurers have been known to pay out policies to insureds who convincingly demonstrate they've suffered a spook-related loss.
One pub landlord in the UK took out a Spooksafe policy after claiming he saw ghosts throwing glasses across the bar. Worried these reckless spirits would cause bodily harm or death to his boozy patrons, Terry Meggs turned to Spooksafe. With a premium of £500 per year, Meggs can rest easy knowing that he'll receive coverage of up to £1 million in the instance of death or injury to staff or customers due to unruly ghostly behavior.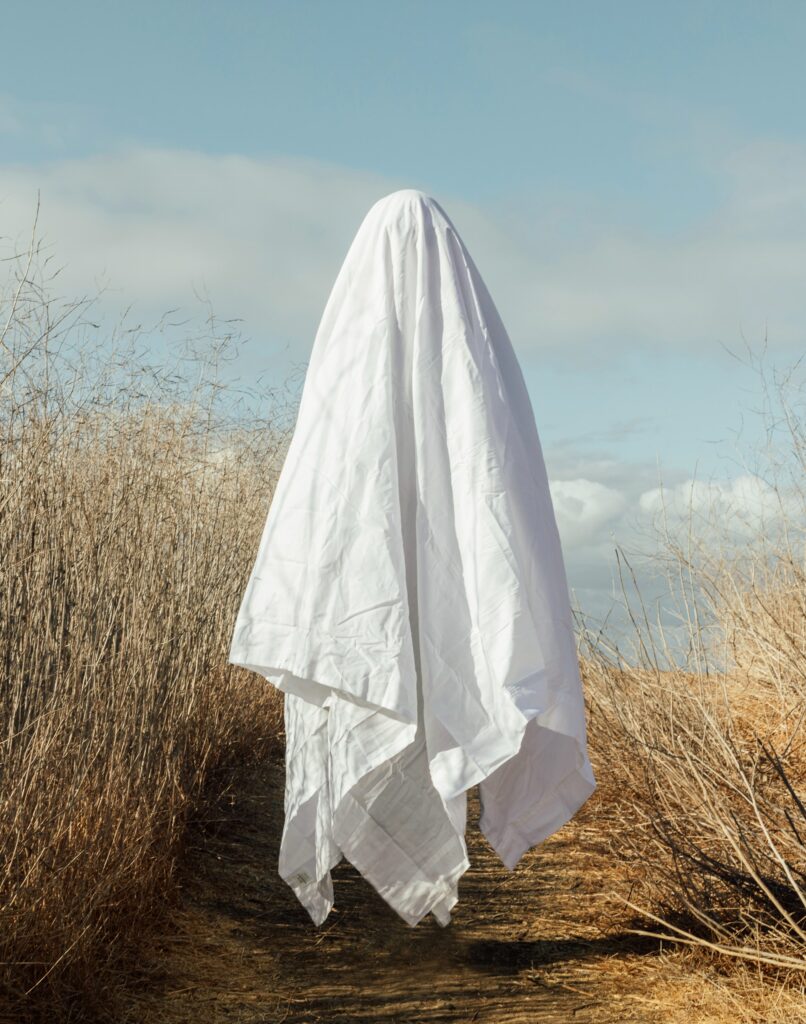 It's unclear whether Meggs' resident ghost has done such harm, but apparently, U.S. ghosts aren't quite so even-tempered.
After a woman in the U.S. was thrown from her banister, the guilty party was declared ghostly in nature, and the death resulted in a $100,000 payout.
The mysterious disappearance of Spooksafe
If you're about to fact-check your trusty AgentSync content specialists, be warned: Ultraviolet – the UK-based insurance firm and their lucrative Spooksafe insurance – vanished off the face of the internet (and potentially the planet) somewhere between 2001 and 2002.
Word on the street was the vampires, werewolves, and demons didn't think haunting was as much fun without the financial risk to victims and did a disappear of Spooksafe, our favorite security blanket. If anyone has heard from Spooksafe sometime in the past 20 years, please get in touch. We're worried about them, and their insureds.
Fortunately, though, Spooksafe is just one specific policy available through UK-based Ultraviolet, other types of ghoulie insurance policies are offered through reputable firms, such as Lloyd's of London. Pro tip: Lloyd's also offers coverage for alien abductions and Santa's beard.
At the end of the day, even Buffy needed her friends to help defend against the Big Bad. Let insurance be that friend to you this Halloween, and make your only spooky risk be the danger of candy corn blues.
To keep your insurance agents in compliance – no matter what they're selling – AgentSync can help. See how with a demo today.
Disclaimer - AgentSync does not warrant to the completeness or accuracy of the information provided in this blog. You are responsible for ensuring the accuracy and totality of all representations, assumptions, information and data provided by AgentSync to you in this blog. The information in this blog should not be construed as legal, financial, or other professional advice, and AgentSync is not responsible for any harm you sustain by relying on the information provided herein. You acknowledge and agree that the use of this information is at your own risk. You should always consult with the applicable state and federal regulatory authority to confirm the accuracy of any of the information provided in this blog.